Loop 101 widening project progresses past halfway point
Loop 101 widening project progresses past halfway point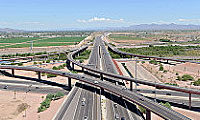 If you watch this update from a year ago and compare it to today's video, you'll get a sense of just how much the Loop 101 (Pima Freeway) widening project has progressed in the past 12 months…
Currently, work is more than 50 percent complete. Crews are adding one travel lane in each direction to the Loop 101 between Shea Boulevard and McKellips Road. The project also includes the addition of merge lanes between most major traffic interchanges, ramp improvements, new rubberized asphalt and the addition of two travel lanes from the northbound Loop 101/Loop 202 interchange entrance ramp to McDowell Road.
Just like last year, we want to remind drivers that there will be no full closures on this project during the upcoming busy holiday season. Drivers can again rest assured that crews will avoid construction-related closures during some of the big events planned in the area through early 2016.
"You'll see a little bit of construction through the winter months, but that's really when we're going to slow down to make it so we don't impact the traveling public," says Senior Resident Engineer Dan Haskins in the video above. "Next April, we're going to make our next big push to try to get a lot of this project done and completed. We want the people in Scottsdale, when they're driving it, to be proud of what we've provided back to them. They have definitely been patient through this project and we want to make sure we're giving them the best product we possibly can."
Drivers are urged to slow down in the work zone and obey the lowered speed limit.
Find additional details in our previous posts or check out the project's progress on our Flickr Page.