May recap: Specialty Plate Spotlight
May recap: Specialty Plate Spotlight
By David Woodfill / ADOT Communications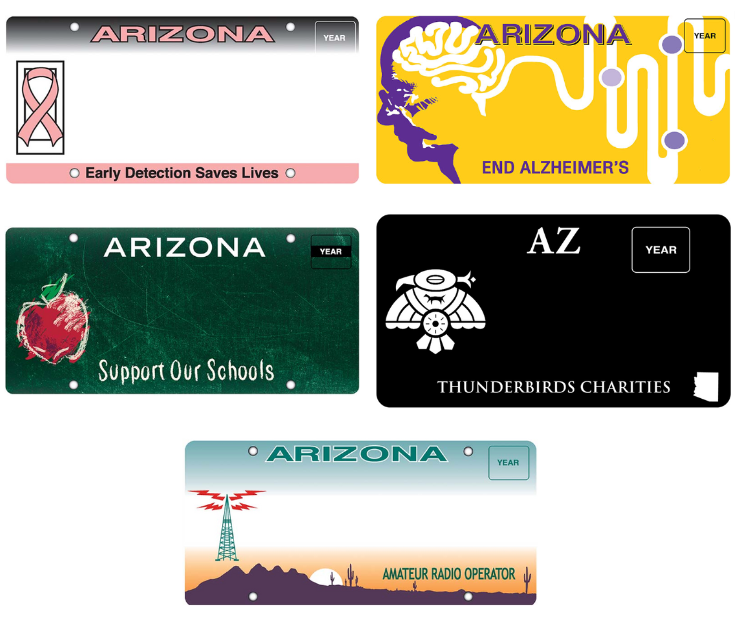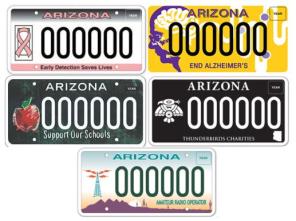 Specialty license plates are more than just a means of identifying a vehicle; they are a canvas for personal expression.
Each week, we feature a specialty plate on our social media platforms with the goal of drawing attention to the worthy cause or charity that benefits from that particular specialty plate. (Did you know that $17 of the annual $25 cost of a specialty license plate goes to a charitable organization?)
We call this the "Specialty Plate Spotlight" and here are the plates that were featured in May:
Early Detection Saves Lives: Money for this plate goes to a special fund administered by the Arizona Department of Health Services for breast and cervical cancer screening and diagnostic awareness and outreach services in Arizona.
End Alzheimer's: Money goes to research to promote the scientific understanding and early detection of Alzheimer's disease and to educate the Arizona residents about disease management.
Support Our Schools: Money goes to Arizona public educators who propose extraordinary activities, projects or lessons for students in K-8. 
Thunderbird Charities:  Money goes to assist children and families, help people in need and improve the quality of life in the Greater Phoenix Metropolitan area.
Amateur Radio Operators: Money goes to a special fund for college scholarships, youth programs, and emergency response communications.
Have you purchased either of these plates? What are your reasons for supporting the cause you chose? Let us know on social media.
All specialty license plates can be viewed and purchased at azmvdnow.gov.