August recap: Specialty Plate Spotlight
August recap: Specialty Plate Spotlight
By David Woodfill / ADOT Communications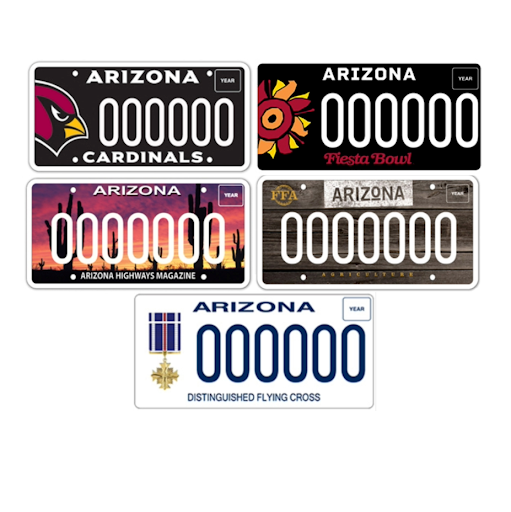 Some folks view license plates as just a series of letters and numbers, but others see them as modes of expressing one's values, hobbies and interests.
In Arizona we have more than 90 specialty license plates featuring a wide range of causes or charities. To boost awareness, we spotlight one specialty license plate a week on social media.
Here are the plates that were featured in August:
Arizona Agriculture:  $17 goes to the Arizona Future Farmers of  America which provides premier leadership, personal growth and career success opportunities for students enrolled in agricultural education programs in Arizona.
Arizona Cardinals: Proceeds go to Cardinals Charities which supports programs designed to improve the lives of children, women and minorities in Arizona.
Fiesta Bowl: Proceeds go to support charities and programs across the state of Arizona designed to support youth, sports, and education.
Distinguished Flying Cross: Proceeds go to a special fund to benefit Veterans in Arizona.
Arizona Highways: Proceeds go to the Arizona Highways magazine.
Join the conversation on social media by letting us know what plate you have chosen and why!
All specialty license plates can be viewed and purchased at azmvdnow.gov/plates.