Meeting begins countdown to big project for Maricopa
Meeting begins countdown to big project for Maricopa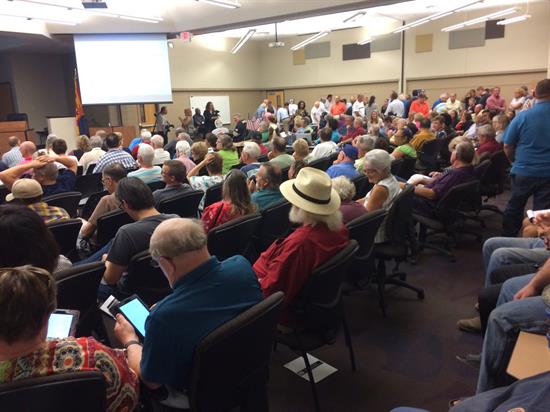 By Tom Herrmann / ADOT Communications
A couple looked closely at the map showing plans for State Route 347 in Maricopa. She pointed at the place where the Arizona Department of Transportation will build a bridge to carry the city's busiest road over the Union Pacific Railroad tracks.
An engineer working on the project asked if they had any questions. "Can you build it faster?" she said, smiling.
More than 200 Maricopa residents attended a public meeting about the project Wednesday evening, filling the Maricopa Unified School District board room to capacity, just as they had done for a similar meeting last July. They asked when and where the work would start (this fall, east of the current roadway), what it would mean for traffic during construction (little to no impact for the first 18-20 months) and whether the project would mean more stop lights on SR 347 (no).
Maricopa is one of the fastest-growing communities in Arizona, with nearly 50,000 residents, and SR 347 is the route many take to get to work in the Phoenix area. For those who live south of Maricopa-Casa Grande Highway, trains crossing the roadway mean delays. Today, 40-60 trains cross the highway every day; in 20 years, that number could be as high as 100.
Over the course of an hour, residents saw a presentation and asked questions about the plans. At the end, most applauded what they see as a needed improvement for their community. Some stayed for nearly an hour after the meeting to ask even more questions.
After more than five years of planning, work will begin in less than six months. For many at Wednesday's meeting, that day can't arrive soon enough.