MVD and Donate Life Arizona celebrate National Donate Life month
MVD and Donate Life Arizona celebrate National Donate Life month
By Bill Lamoreaux / ADOT Communications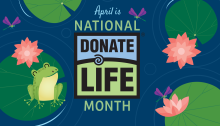 The Arizona Department of Transportation Motor Vehicle Division and its partner, Donate Life Arizona, are celebrating National Donate Life Month in April. 
This year we are highlighting the big impact of such an insignificant decision, like electing to be a donor can have. 
"I remember falling asleep one night and waking up about two days later finding out I had been medevaced to Denver, Colorado," says Kenny Hanson, a liver recipient. "When I woke up, I was in stage 4 liver failure." 
Hanson's sister, Kari Webb, works at the Bullhead City MVD location. So she has asked a simple question hundreds of times, "Do you want to register as a donor?" Now, that question has a personal meaning to her, knowing the selfless decision to be a donor saved her own brother.
"My brother spent the entire year of 2020 dying. He just kept getting worse," Webb says. "We just hoped and prayed he would make it until an organ was made available."
That box on the driver's license or state ID application is so small — and often people make the decision in just a few seconds — yet the implications are huge. More than 95% of new donor registrations in Arizona come through the MVD. Each decision to check the box as an organ, eye and tissue donor can possibly save eight lives and heal 75 more.
Just three short months after Hanson received his lifesaving transplant, with newfound energy to savor life, he went back to work as a diesel mechanic on 18-wheeler trucks. And like many of those given a second chance, he prioritizes his personal relationships, especially with his children. 
"Being able to see them and grab them and throw them in the air again. I hadn't been able to do that for about two years with everything going on," Hanson says. "All my doctors said, 'slow down,' but … I just wanted to sit up and take advantage of everything."
And now, Webb remembers her brother's story and is even more motivated and inspired by the quick and simple question. "Do you want to register as a donor?"
For nearly two decades, ADOT MVD and Donor Network of Arizona have partnered to educate people about organ, eye and tissue donation and make it easy to register. Today, more than 4 million Arizonans are registered donors. 
Visit DonateLifeAZ.org to learn more about organ and tissue donation and register as a donor.