New traffic cameras expand your view of highways around the state
New traffic cameras expand your view of highways around the state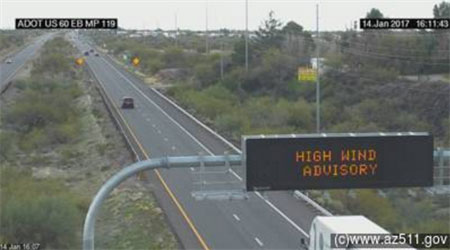 By Dave Woodfill and Garin Groff / ADOT Communications
Just in time for more winter weather this weekend, our Arizona Traveler Information site has expanded your view of highways and conditions with nine new cameras around the state.
Joining the many traffic and weather cameras available at az511.gov, these views help ADOT and commuters using their desktop computers and laptops get real-time information on road conditions. And let's face it – it's just fun to check out those Arizona sunrises and sunsets.
Five cameras in northern Arizona are on Interstate 40 near Ash Fork, near Butler Avenue in Flagstaff and at the Sanders Port of Entry near New Mexico; at State Route 89A and Milton Road in Flagstaff; and along SR 260 near Show Low. Cameras in the central and southern portions of the state are on US 60 south of Wickenburg; on Interstate 10 near Sacaton and Picacho Peak; and along State Route 90 in Whetstone.
Views from some of these cameras are below.
Next time you're heading out on a trip, trying to beat the traffic or just looking for a great view, visit to az511.gov and see what camera views are available along your route.