Neighborly advice: AZ511 app comes in handy
Neighborly advice: AZ511 app comes in handy
By Luis Carlos Lopez / ADOT Communications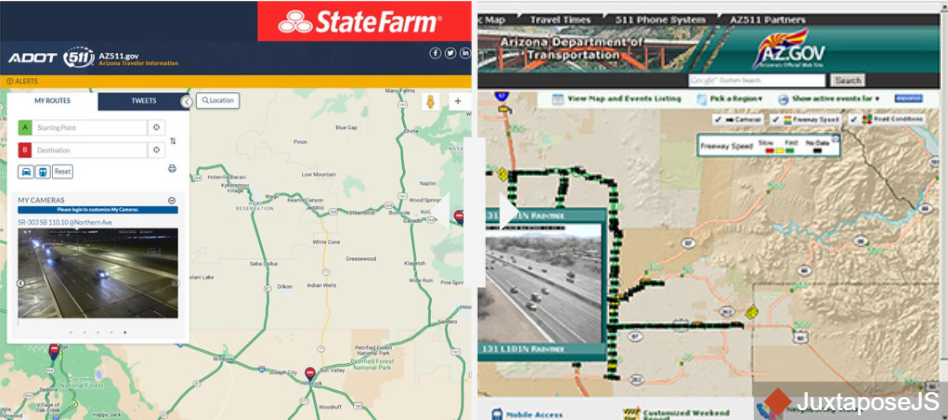 Please, won't you be our neighbor? 
It' s September 28, and as such, it is National Good Neighbor Day. 
As a good neighbor, we'd love to share a tidbit of knowledge. It's not quite sugar but if you are planning a trip, it may be just as sweet. 
I'm offering you a look at ADOT's AZ511 app.
When planning a trip within Arizona, you'll know how to get there by using our useful app. Over time, you might begin to appreciate and embrace its utility. It provides real-time traffic conditions, as well as access to our statewide network of traffic cameras. There are other goodies, as well. AZ511 allows you to see construction zones, closures, truck routes and much more.
Fun fact: Embedded in this article is a glimpse of how AZ511's interface has changed over time. The toggle at the top is a look at the web version, az511.gov. Slide it back and forth to compare the differences in the website from when it began to today.
The benefits of the AZ511 app crystalized for me recently when my wife and I took a roadtrip. We wanted to travel new roads, so we looked to the app for alternative routes. We settled on traveling east on US 60 to Globe and then US 70 to Safford. Following the app's suggested route took us past beautiful eastern Arizona landscapes. 
As the mile-markers piled on, I could see the map in my head coming to life. Having planned the route beforehand allowed me to anticipate twists and turns along the way. It was as though I were tracing the journey with my finger, just as I often do when I want to find something on a map. 
Planning with the aid of AZ511 was much more enjoyable than the impromptu I-think-we-have-to-go-this-way attitude that governed my youth. If my mid-30s have taught me anything, it's that a little planning goes a long way.
After all, if you don't know where you are going, you might end up some place else.