Out with the old, in with new: 48th Street and Broadway Road bridges removed to make way for new ones
Out with the old, in with new: 48th Street and Broadway Road bridges removed to make way for new ones
By the Broadway Curve Improvement Project Team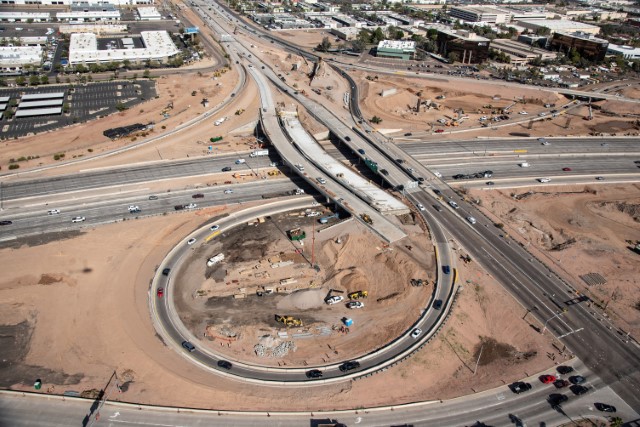 For the hundreds of thousands of Arizona Department of Transportation Twitter, Facebook and Instagram followers. 
For the thousands who downloaded the Interstate 10 Broadway Curve Improvement Project mobile app known simply as, The Curve. 
And for everyone who uses on Arizona's highways.
Are.... You... Ready... to Rubble!?!?
We sure are. 
The I-10 Broadway Curve Improvement Project team is gearing up for the removal of three bridges over the interstate and is preparing for its "Ready to Rubble: The Ultimate Bridge Takedown" weekend event.   
The removal of the 48th Street and Broadway Road bridges, which have carried motorists over I-10 for more than five decades, is scheduled for the weekend of  April 21-24. The new bridges opened to traffic in early 2023 and were constructed as part of the I-10 Broadway Curve Improvement Project, ADOT's largest urban freeway reconstruction project to date. 
Exactly how will crews remove all three bridges?  Here's the lowdown on the takedown!
First, ADOT and the developer in charge of delivering the project will conduct an inspection of the bridge prior to the removal process.  
Next, construction crews will close I-10 in both directions. During this closure, the existing condition of the pavement under the bridges will be inspected and documented prior to the bridge removal to ensure the roadway does not get damaged during the removal process.  
Once pre-work is completed, crews will lay over one foot of aggregate on top of the pavement   directly under the bridges to serve as a  protective layer during the bridge removal process. What exactly is an aggregate, you ask? It is a mixture of rocks and sand designed to absorb the impact of any falling debris.
And now we are "Ready to Rubble"... Let the "munching" and shearing begin! 
Munching? Shearing? 
Yes, "munching' is what the method for removing the concrete bridge deck is called, and shearing is the term used for cutting and removing the steel girders. 
Excavators with a "munching" attachment will break down the concrete bridge deck (the part of the bridge that motorists drive on) and excavators with a shearing attachment will cut the existing girders (the part of the bridge that helps support the bridge deck). The steel girders being cut into sections less than 38 feet in length will then be hauled away from the project site for proper disposal. The removal of these three existing bridges will take two days of jam-packed munching and shearing.
Whenever possible, ADOT reuses materials from project sites. This article covers some of the ways ADOT reuses metal, concrete and other construction materials for other projects.
As we welcome new bridges and say goodbye to old ones, it is important to remember infrastructure from the past makes way for the future. Learn more about the I-10 Broadway Curve Improvement Project at www.i10broadwaycurve.com.