The Quiet Man and the public invited to John Wayne Parkway project meeting
The Quiet Man and the public invited to John Wayne Parkway project meeting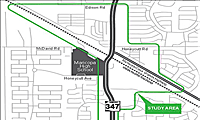 By Tom Herrmann / ADOT Communications
As Maricopa continues its booming growth – from 1,000 residents in 2000 to almost 50,000 today – not even the man for whom State Route 347 is named might have the True Grit to wait as more and more trains roll through town.
Today, drivers wait 'Neath the Arizona Skies as 40-60 trains cross SR 347 – dubbed John Wayne Parkway after the actor who owned farmland in the area – every day. Within the next 20-plus years, as many as 100 trains a day may use the tracks that run through the center of Maricopa, enough to turn the daily commute into The Longest Day.
This Thursday, July 14, Maricopa residents will have a chance to review the final adjustments to the alignment selected for a bridge that will take the popular roadway – 31,000 vehicles per day now, increasing to 60,000 by 2040 – over the railroad tracks and Westward Ho toward Phoenix.
After a public hearing in December 2014 and an evaluation process, planners chose a route that received federal approval. That route has since been re-evaluated for improvements to the alignment. Those changes will be available at the meeting 5:30-7:30 p.m. Monday at the Maricopa Unified School District board room, 44150 W. Maricopa-Casa Grande Highway.
Unless there are unexpected delays, the final design should be completed and work started by the end of 2017, with the bridge open for traffic in late 2019.
That should be in time to save headaches for Maricopa commuters, even if you're not going North to Alaska.