With rain, snow coming this weekend, slow down for safety
With rain, snow coming this weekend, slow down for safety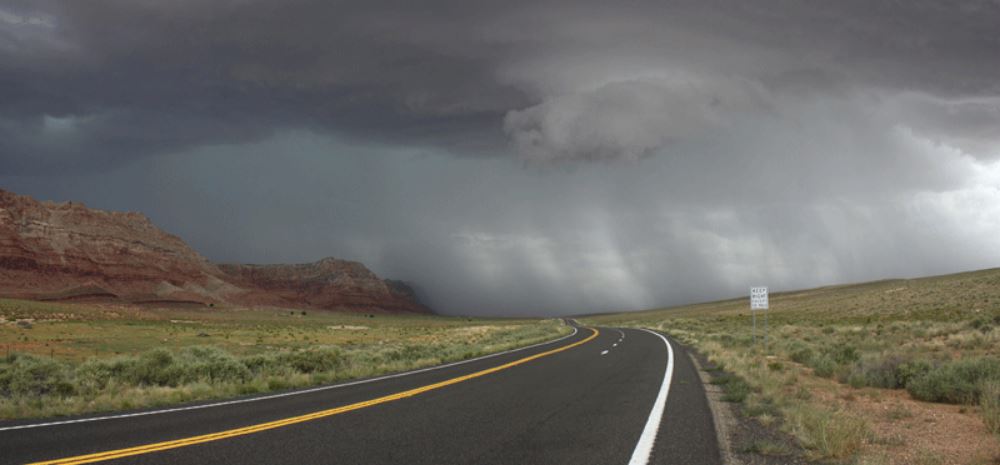 By Garin Groff /ADOT Communications
After an extended stretch of dry weather, Arizona drivers should prepare for driving in the rain – or in snow at higher elevations – late this week and into the weekend.
For much of the state, rain will be the main concern. Our tips for driving in on wet roads include:
Allow extra time to reach your destination safely.
Create a space cushion by reducing your speed and maintaining a safe distance between your vehicle and the one in front of you.
Avoid sudden braking, which can cause you to slide on wet pavement. Instead, take your foot off the gas pedal and brake slowly.
Avoid areas where water is pooling in travel lanes; if possible use center lanes and drive in the tracks of the vehicle ahead of you.
Stay alert for rocks knocked onto roadways by storm runoff on slopes.
Before you drive, inspect your windshield wipers and replace them if necessary.
Turn on your headlights while driving.
Be cautious of hydroplaning. This occurs when a thin layer of water accumulates between your tires and the asphalt and your vehicle loses contact with the roadway. You might suddenly feel your vehicle sliding or drifting because you've lost traction. If you feel you are hydroplaning, ease your foot off the gas pedal until you regain traction. Do not brake suddenly. If you are sliding or drifting, gently turn your steering wheel in the direction of your slide.
If you're driving in the snow:
Slow down and drive according to road conditions, including operating at slower speeds and avoiding sudden acceleration on snow and ice.
Leave extra room between your vehicle and the vehicle in front of you.
Stay at least four vehicle lengths behind snowplows.
Be prepared with extra clothes and gloves, maintain at least a three-quarter-full tank of gas, keep your cell phone charged and pack extra drinking water, some food and all necessary medications. Pack items that would help in case you encounter an unscheduled highway closure.
Pack an emergency kit with blankets, a flashlight, ice scraper, small shovel, container of sand for traction and hazard warning lights or reflectors.
Beware of black ice – especially at night when melting snow can turn to slippery ice. And remember, ice tends to form on bridges first and can be hard to see.
Remember that ADOT has numerous safety tips available on its website for driving during weather events.

Real-time highway conditions are available on ADOT's Traveler Information site at az511.gov, by calling 511 and through ADOT's Twitter feed, @ArizonaDOT. When a freeway closure or other major traffic event occurs, our free app available at ADOTAlerts.com will send critical information directly to app users in affected areas – where possible, in advance of alternate routes.