Rattlesnake image greets Cave Creek Road motorists
Rattlesnake image greets Cave Creek Road motorists
By Laurie Merrill / ADOT Communications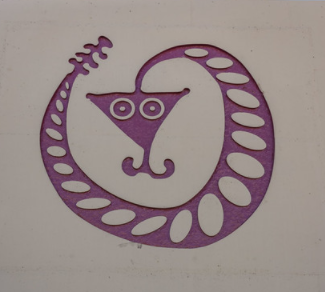 On the southeast side of the Loop 101 Pima Freeway, the image of a coiled rattlesnake raises its head to gaze at motorists on Cave Creek Road.
Before the design was painted a deep red that emphasizes its eyes, rattle and forked tongue, it was the same color as the concrete wall on which it was carved.
The unpainted carving perplexed motorist Lorraine Normand, who wrote to the Arizona Department of Transportation inquiring about it.
"I am wondering what the insignia is on the new overpass wall of the 101 at Cave Creek Road?  It doesn't look like a Phoenix and I have tried several times to take a photo (while my husband was driving/stopped at the light)," she wrote.
John Tucker, the community relations manager for the project improving Loop 101 between  I-17 and Pima Road, sent her photos taken by ADOT photographer Joe Larger and an explanation.
"According to ADOT's landscape architects, the icon in question is a Hohokam coiled snake petroglyph. It's found on several strategic wall-accent areas on the project," Tucker said. "It and other icons used on the project – such as flying birds, lizards, agave cactus and cactus ribs – reflect the archaeological history, wildlife and reptiles found in the area." 
For example, a flock of birds flies in a single file of red-painted images along some of the sound walls. Giant green lizards with detailed scales seem to scramble up concrete pillars. Up close, the scales are actually rocks and gravel, used to create a bumpy surface. You can check a sampling of the design in the Flickr album at the top of this post.
The intersection at Cave Creek is part of a $185 million project to improve and widen 13 miles of L-101 from Interstate 17 to Pima Road. New lanes have been added, bridges widened and on-and-off ramps adjusted to fit the new configuration. Work is expected to end in fall 2021.
Choosing the rattlesnake image went beyond displaying the Hohokam influence, said Joe Salazar, ADOT Project Team Leader for Landscape Architecture and Aesthetics.
"The inspiration is there in the desert, but there are also rattlesnakes in the area," Salazar said. "There are some trails that go up along the mountainside. It can also be an informational icon just letting people know what the reptile wildlife is in the area."
Meanwhile, the Normands were delighted with the information Tucker provided.
"Thank you for taking the time to answer me in such detail," Normand wrote. "My husband and I just couldn't figure out the design.  Now that you have explained it and sent a picture, we can see the eyes of the snake."
The Normands appreciate the artwork springing up on new projects like the Loop 101 widening project.
"We feel that the improvements on the walls look so nice," Normand wrote, adding, "When we drove cross country to live in Arizona 25 years ago, we did not see such detail. In these trying times, it gives us a sense of pride."