Road Trip: Arizona's piece of US 60, an original transcontinental highway

By Gant Wegner / ADOT Communications
What Arizona highway features a 5,500-foot elevation change from pine-topped mountains to Sonoran Desert lowlands, a river canyon, tunnel, metropolitan-area freeway and urban corridor, and ranchland, farmland and copper mines?
Hint: It's not an interstate freeway.
It is US 60.
In its heyday before the construction of the Interstate Highway System, US 60 was the ribbon of transcontinental two-lane blacktop that guided motorists across the lower half of the United States between the beaches of Virginia and downtown Los Angeles. While interstate freeways have replaced much of US 60, some of the original roadway still exists. In Arizona, we have the final few hundred miles, between the New Mexico state line and Interstate 10, about 30 miles east of California.
But US 60 is more than a highway. It is a 400-mile lesson in Arizona history and geography.
Let's buckle up and take a road trip to see what US 60 offers: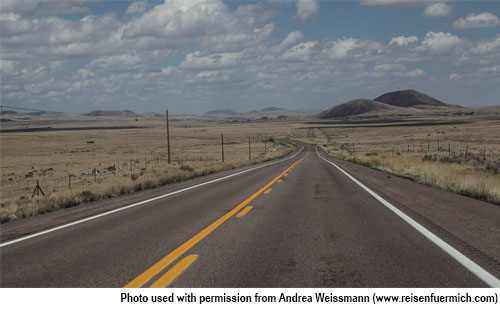 We start our journey at the New Mexico state line and travel west through rolling ranchland. Remember the late actor John Wayne? He liked this part of Arizona so much he bought the 26 Bar Ranch near Springerville.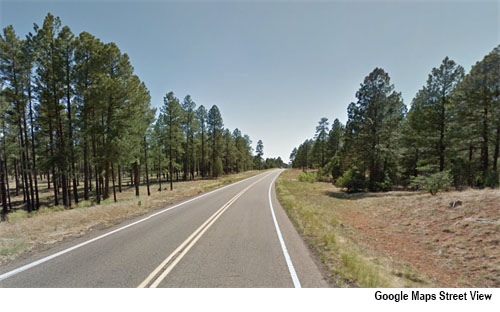 After passing through the town of Show Low (do you get the card game reference?), US 60 heads southwest and up into the "high country" of the Mogollon Rim. Here, high-desert grassland is replaced by stately ponderosa pine trees – the largest stands of this type of pine in the United States – where people enjoy cool, fresh air in the summer and snow in the winter.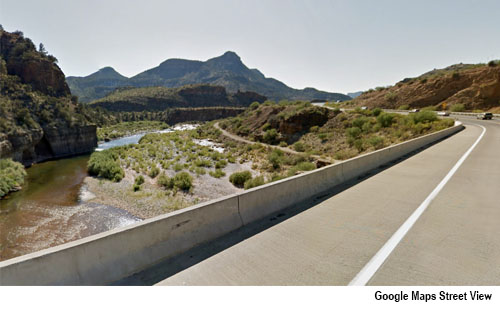 Continuing southwest and across the Rim, we cross a bridge over the Salt River Canyon. Downstream, this river is engineered with dams into four reservoirs that feed an irrigation canal system that turned desert into farmland and spurred the growth of a place we call Phoenix. Next up are the towns of Globe and Miami, home to a major copper mine operation (one of Arizona's Five C's).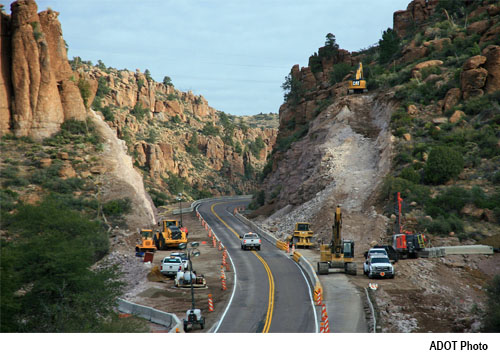 Beyond Globe-Miami we drive down from the Rim through some rugged, rocky terrain. ADOT is working to improve the flow of traffic in this corridor by blasting away a hillside to construct a new passing lane.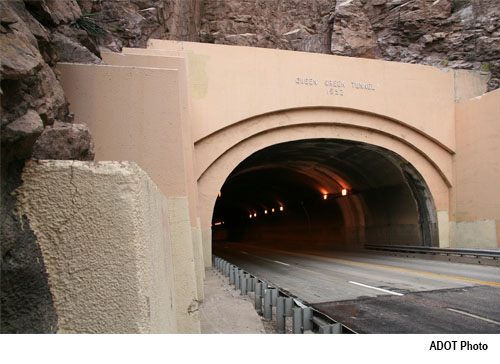 Queen Creek Tunnel guides us through a mountainside as we approach the town of Superior. ADOT is adding some 21st-century technology to the interior of this 64-year-old, 1,000-foot-long tunnel. New LED lighting will automatically adapt its brightness to the ambient light outside the tunnel. West of Superior, ADOT is expanding US 60 to two lanes in each direction.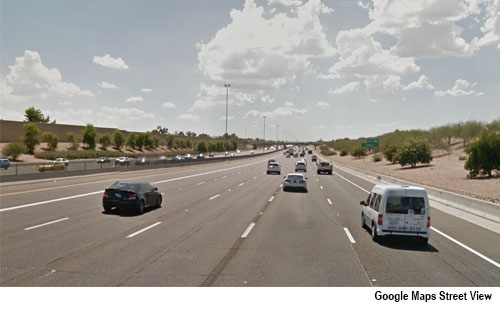 There is a big change ahead as the scenery opens up to Phoenix's Valley of the Sun metropolitan area. When US 60 was established through Arizona in the 1930s, Phoenix had a population of 50,000. By 2016, four million people had made the region their home. Over time the highway has been widened and improved by ADOT to handle all the city slickers. It was given a fancy name, too – Superstition Freeway – where six lanes run in each direction through the East Valley.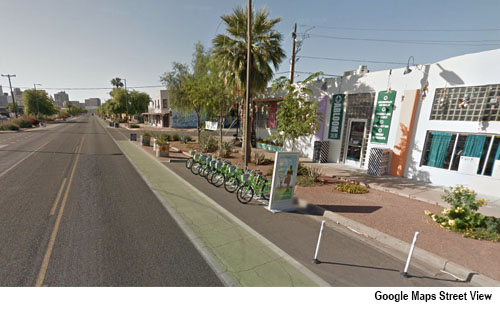 Speaking of names, after the Superstition Freeway merges with Interstate 10, US 60 reappears in downtown Phoenix as Grand Avenue, an urban corridor running diagonally through the city. Retro motels and mom-and-pop storefronts are a snapshot of the highway's past, while landscaping, bike lanes and cross-street overpasses are a nod to today's urban renewal efforts and transportation engineering efficiencies.
Driving along farther to the northwest, we keep one eye out for street-legal golf carts in Sun City, developed in the early 1960s as the country's first "active adult" retirement community. Then we are into the suburb of Surprise and the Bell Road/Grand Avenue intersection, site of a critical ADOT project building a Bell Road overpass to cure a traffic bottleneck.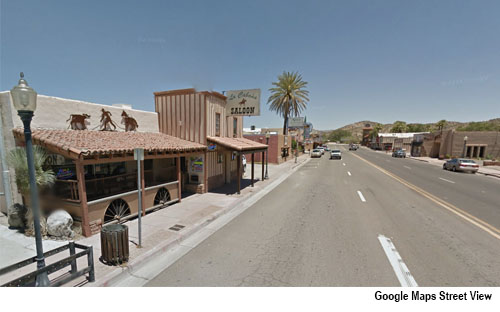 We leave the metropolitan area and Grand Avenue reverts back to US 60. Forty miles later we enter a roundabout at the junction with US 93, announcing our arrival in the town of Wickenburg. Named after a Prussian (that's German to you and me) prospector who discovered gold in 1863 in the nearby Vulture Mine, the town's early population was supported by goods delivered along a route that later became the modern US 60. Today's Wickenburg maintains a frontier flavor along the town's main streets and hosts an annual Gold Rush Days festival with a rodeo.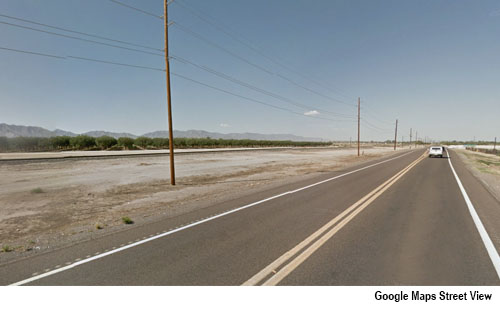 Heading west from Wickenburg is the final, 70-mile stretch of US 60. Our view is pure Sonoran Desert with lonely mountain ranges in the distance. We slow down through the hamlets of Aguila, Wenden and Salome. Patches of green land explain why there are clusters of people living in this unforgiving environment – someone needs to tend the irrigated fields of alfalfa, vegetables and pistachio trees.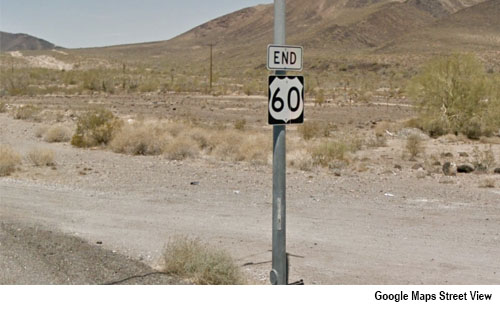 Our US 60 road trip comes to a close. After we zip past RV parks centered in a place called Brenda, an "END 60" sign abruptly marks the spot where US 60 disappears from maps and merges into Interstate 10.
We have a choice to make: I-10 west to Los Angeles or I-10 east to Phoenix.
Which do you choose?
---

We take for granted the ability to travel around Arizona on a network of highways and interstate freeways. The Road Trip series of blog posts takes a closer look at those roadways – their history and unique characteristics, and ADOT's efforts to ensure your next journey is safe and efficient.