Road Trip Recipes: Spicy Interstate 8 Layer Dessert Dip
By John LaBarbera / ADOT Communications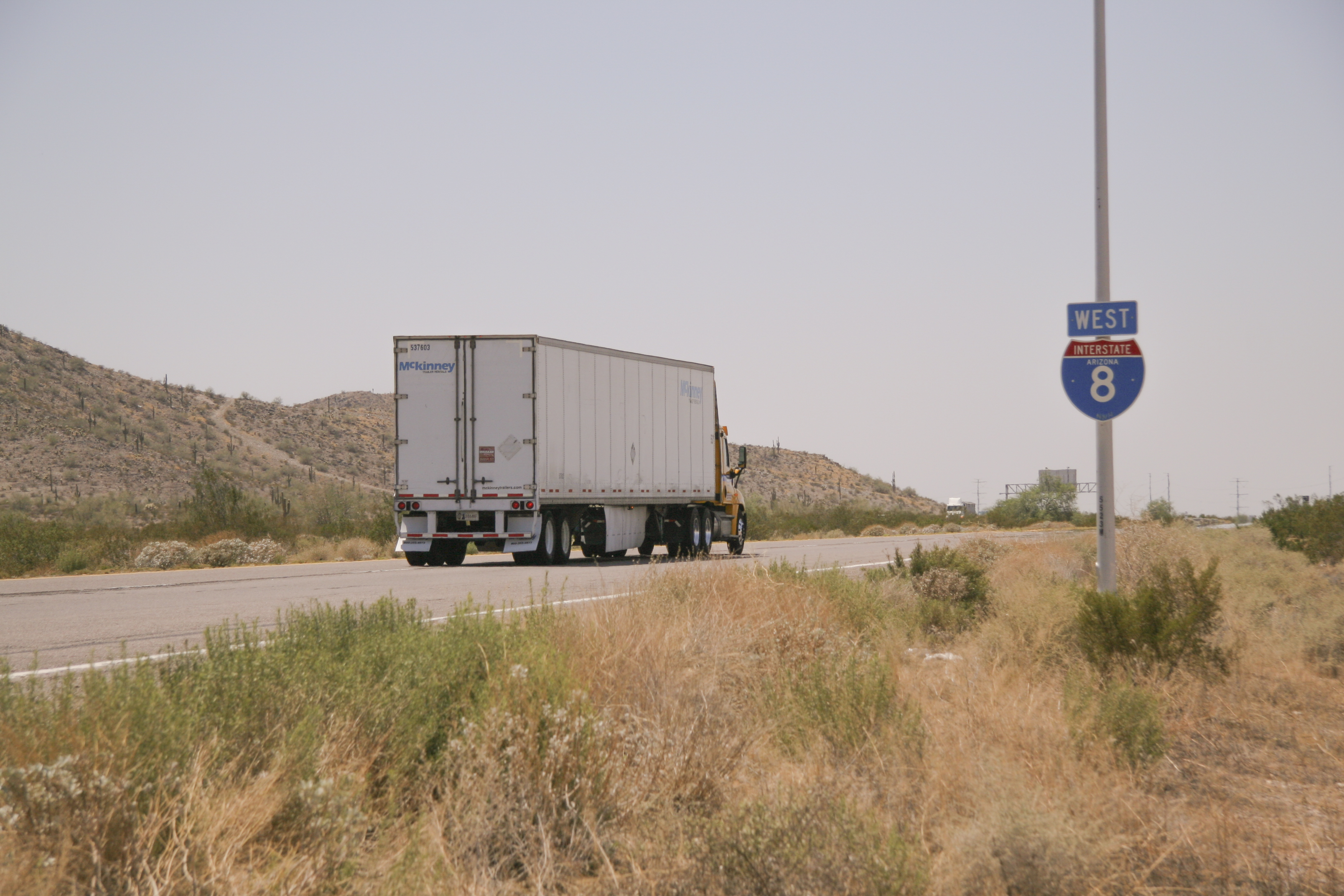 Thanksgiving is upon us, so we here at the ADOT blog thought it would be fun to flood your feed with some scrumptious recipes.
If a Turkey Day road trip is on your horizon, how about celebrating your safe arrival by making a delightful dip named after one of Arizona's six interstate highways?
Let us present Spicy I-8 Layer Dessert Dip.
But hey, this is a recipe on the internet. So you're going to have to read through an unrelated story first!
We'll start with a little bit about the dip's namesake, Interstate 8.
The Interstate Highway System is one of the defining products of Dwight D Eisenhower's presidency, and I-8 was one of the first designations approved in 1957.
Interstate 8 stretches 178 miles from its terminus with Interstate 10 here in Arizona to the California state line. From there it reaches another 178 miles into San Diego.
While it officially opened for traffic in 1964, I-8 was not fully complete until the final stretch over the Colorado River was declared finished in 1978.
Motorists can take I-8 to visit such quintessential Arizona towns such as Yuma, Gila Bend and Casa Grande. As one rides along its federal grade trappings, you'll pass some uniquely named places: Aztec, Smurr, Mohawk, Tartron and Stanwix. And don't forget to stop for a date shake in Dateland!
Interstate 8's route largely replaced the same byway once held by US Route 80. Once I-8 was officially completed, the US 80 designation was removed.
Now, who's ready for a delectable dish, full of both sweet and spice that is just perfect for an appetizer or dessert?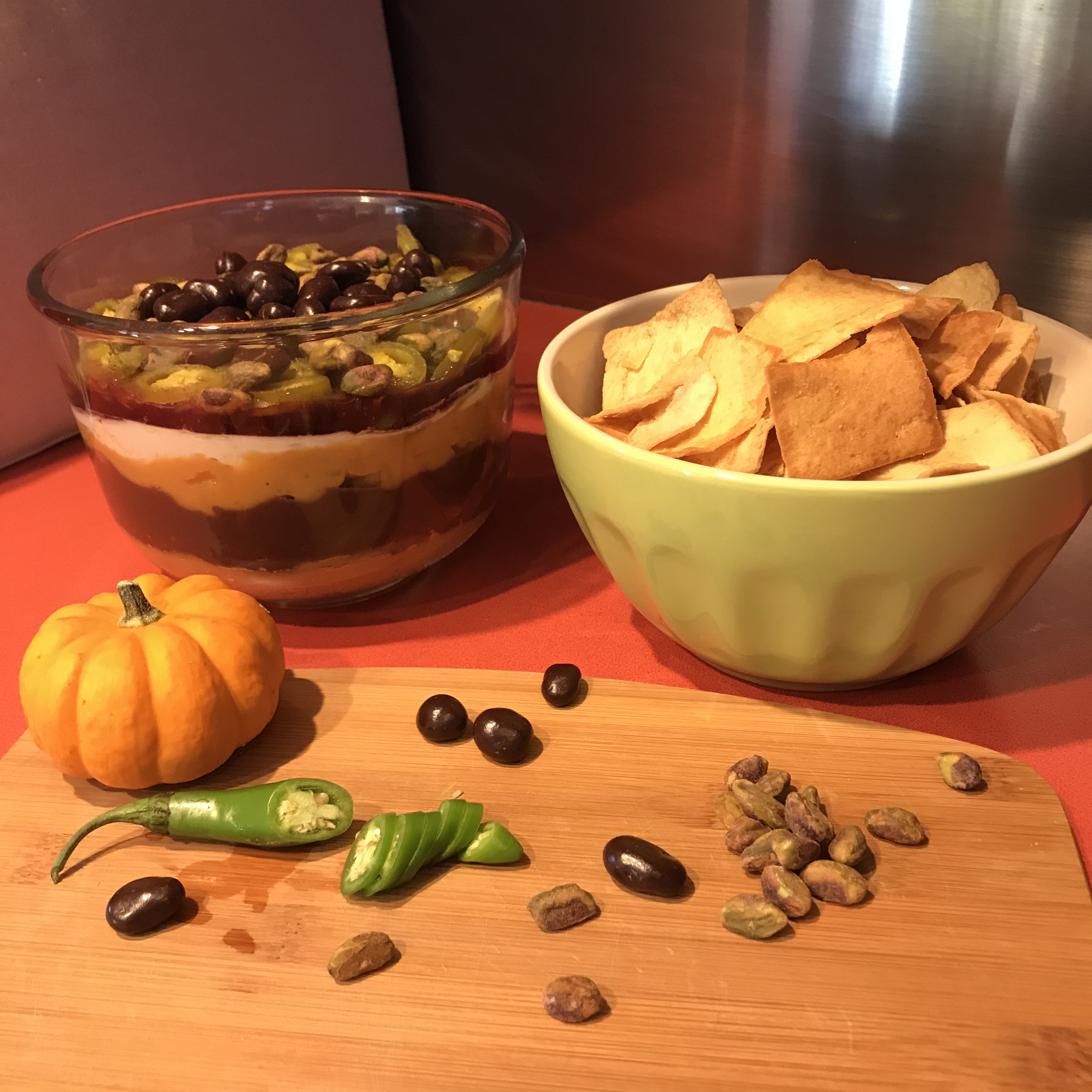 Spicy I-8 Layer Dessert Dip
Ingredients:
1 (29 oz) can sweet potatoes in syrup, drained
¼ teaspoon salt, divided
1 fresh habanero, sliced
1 (12 oz) jar candied jalapenos (sweet heat), drained
1 (15.5 oz) can great northern beans
4 tablespoons cocoa powder, unsweetened
3 ½ tablespoons of sugar
2-3 tablespoons water
1 (8 oz) tub softened cream cheese (or Toffuti)
1 (14 oz) can whole berry cranberry sauce
½ cup dark chocolate cranberries
½ cup roasted/salted pistachios
Prepare:
Drain one can of sweet potatoes (in syrup). Place ⅛ teaspoon salt and sweet potatoes in a food processor. Blend until mostly smooth. Remove half of the sweet potatoes and place in the bottom of your serving dish.
Add 2 tablespoons of candied jalapenos to the food processor with remaining sweet potatoes and blend. Set aside in another bowl.
Drain one can of great northern beans. Rinse thoroughly three times. Add the beans, cocoa powder, remaining salt, and sugar to the food processor. Blend until smooth, adding between 2-3 tablespoons of water as needed. Spread on top of the plain sweet potato layer.
Open the can of cranberry sauce and place in a bowl. Thinly slice a habanero pepper (keeping seeds) and stir into your cranberry sauce.
Assembly:
You should have two layers so far: plain sweet potatoes and chocolate "hummus."
Next, you will add a layer of jalapeno sweet potatoes.
On top of this, you will spread the softened cream cheese.
Then, put on the habanero cranberry sauce.
Finally, place a single layer of candied jalapenos.
Top with pistachios and chocolate covered cranberries. Chill, covered for at least two hours. This dip gets better the longer it chills and will keep for up to 2 days.
Serve with pita chips.
The longer you can chill it in the fridge, the better!
Traditional Interstate 8 Layer Bean Dip:
If you're not yet ready to venture into the great savory unknown, we've still got you covered!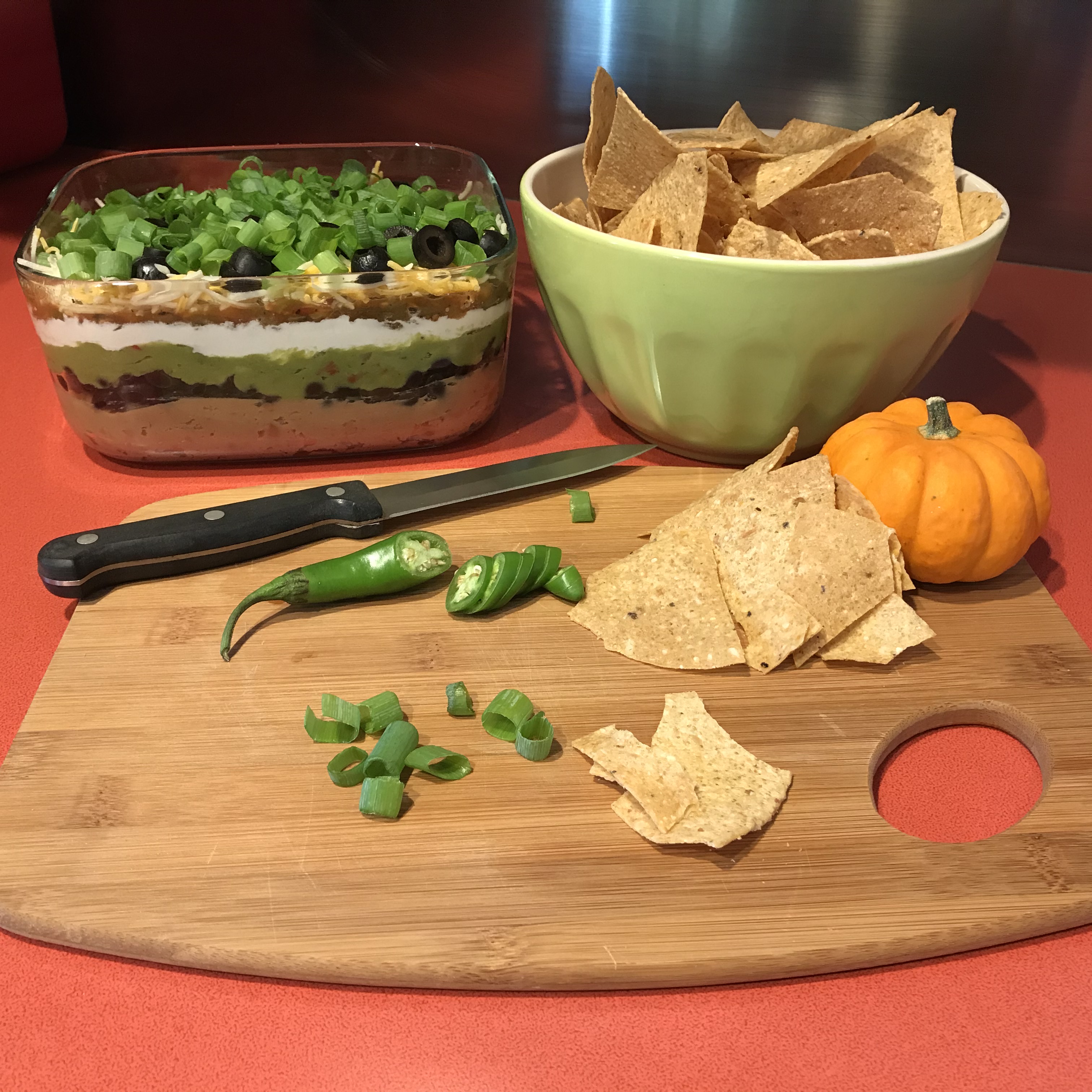 Ingredients:
1 (16 oz) can of refried beans
2-3 tablespoons water
1 (15 oz) can of whole black beans, drained and rinsed
1 cup of guacamole
1 (8 oz) container of sour cream
1 cup of salsa
½ cup of shredded cheese
1 (2.25 oz) can of sliced black olives, drained
½ cup of chopped green onion
Prepare:
Open a can of refried beans and place in a bowl. Add 2-3 tablespoons of water until desired (and scoopable) consistency is reached.
Open a can of black beans. Rinse and drain.
Open a can of black olives and drain.
Chop ½ cup of green onions.
Assembly:
The first layer will be of refried beans. Follow this with the drained black beans.
Next you will add the guacamole, sour cream, and salsa.
Sprinkle cheese, top with black olives and green onions.
Serve immediately or chill, covered. This dip will keep for up to 2 days.
Serve with tortilla chips.
Expecting the whole family? Make both! And make sure to tell us what you think.
Happy munching!