Rumor has it there's a winner for favorite 2016 safety message
Rumor has it there's a winner for favorite 2016 safety message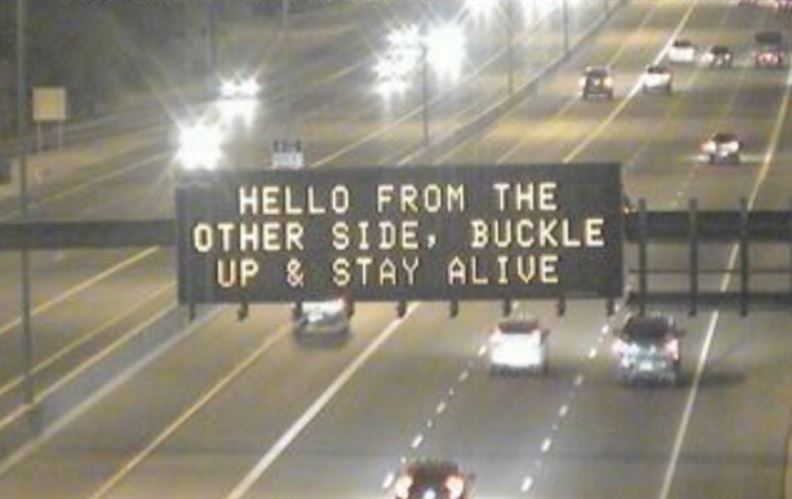 By Peter Corbett / ADOT Communications
An Adele-inspired message struck a chord when ADOT Blog followers voted on their favorite safety slogans of 2016.
"Hello from the other side, buckle up & stay alive," which appeared on electronic message boards in August, had received more than 3,300 votes as of Wednesday, Jan. 4.
The runner-up was "Gobble, gobble go easy on the throttle," which got roughly 3,200 votes. "Mash potatoes not your head, buckle up," another Thanksgiving weekend offering, was third with more than 3,000 votes.
The informal online poll launched Dec. 28 had participants give thumbs-up or thumbs-down to 10 safety slogans that appeared on ADOT message boards this past year.
ADOT posted more than 30 targeted safety messages during 2016.
ADOT's Facebook page offered a chance for participants to sound off on messages that didn't make the list of finalists. The most common complaint: not seeing Stars Wars-themed messages, including those timed with the release of "Rogue One: A Star Wars Story," such as "Join the rebellion against distracted driving."
Other top-rated messages were "Pokemon Go is a no-go when driving" and "Designated drivers make the best New Year's dates," both with around 2,800 votes, and "Dumb drivers and smartphones don't mix," with about 2,700 votes.
We're leaving the poll up, and who knows what the future may bring. But since some people have asked us for a winner, here you go.