The Soundtrack of Arizona: A Playlist of 48 Songs about the 48th State
The Soundtrack of Arizona: A Playlist of 48 Songs about the 48th State
By Alexis Potter / ADOT Communications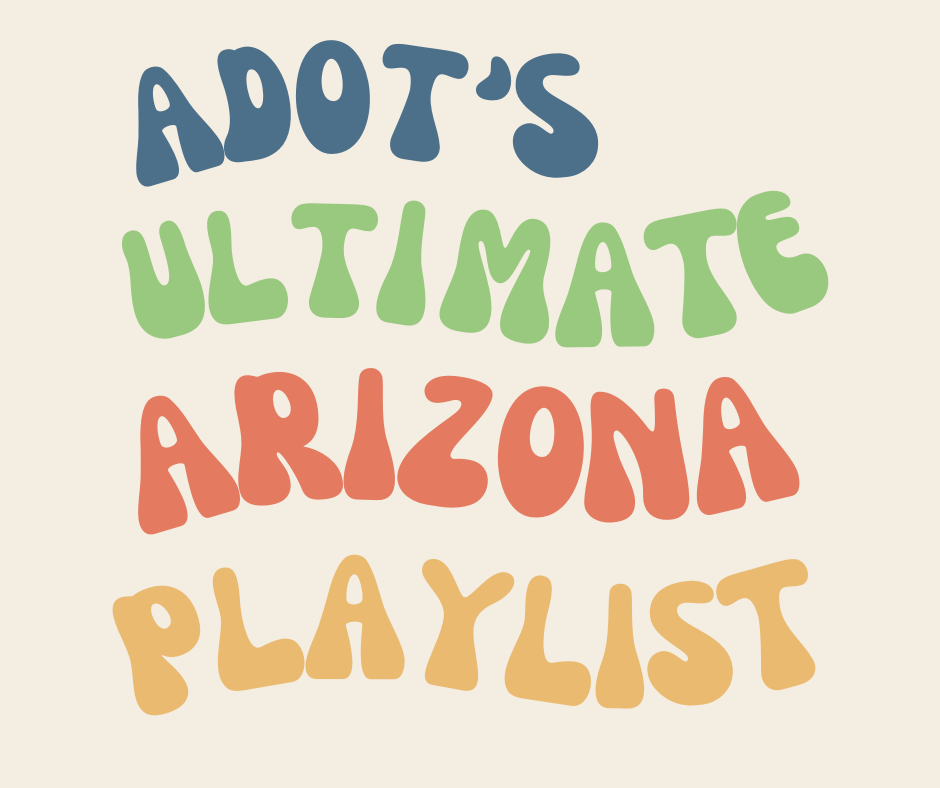 With the temperature heating up and the days getting longer, road trip season is just around the corner in Arizona. And with so many exciting destinations across the state, adventure is always just a short car ride away.
No matter where you're going, it's essential to be prepared before embarking on the open road. While we can't put together an emergency kit for you or charge your phone, we did make you this playlist of 48 songs that is perfect for your next road trip through the 48th state.
Just like our great state, this playlist has a little bit of something for everyone, from notable classics like "Take It Easy" and "Route 66," to more modern hits like "Closer" and "Always Remember Us This Way" from "A Star is Born."
If you really think about it, listening to a playlist can help you drive safer, since you'll never have to take your eyes off the road to change songs.
Now that you have your playlist ready, you can focus on making sure you have extra water and snacks, a first aid kit and other emergency travel items you may need. You can find a full list of suggested items and safety tips on our Road Trip Safety page.
Want to know why these songs made the list? Here is a list of each song and their Arizona-related lyrics:
Always Remember Us This Way – Lady Gaga (2018)
That Arizona sky / Burnin' in your eyes
Arizona – Rex Allen Jr. (1981) 
I love you, Arizona / Your mountains, deserts, and streams
Arizona – Frances Cone (2016)
It was Arizona, the seventeenth 
Arizona – Corn on My Dinner Plate (2020)
*Song title*
Arizona – Kings of Leon (2007)
She must feel it's awkward / Or it's Arizona
ARIZONA – young friend ft. ella jane (2020)
*Song title*
Arizona Blues – Reckless Kelly (2000)
Pack our things, and we'll leave in the mornin' / Head for Arizona skies
Arizona, I Love You – Studio Group (2006)
Arizona, I love you, yes I do / Lord, I love everything about you / Here I live, and here I'm gonna die / Oh, Arizona 
Arizona Rain – 3 of Hearts (2001)
I wanna feel your love like the Arizona rain / Pouring down like a hurricane / I wanna drown my soul and wash away the pain / In the Arizona rain
Arizona Skies — Los Lobos (1992)
*Song title*
Arizona Sky – Melanie Vasque (2021)
*Song title*
Arizona (What Are You Doing Tonight?) – Hans Olson (1995)
Arizona / Magic desert sand / Arizona / Where mighty saguaros stand / Like a monument to my piece of mind / Arizona, what are you doing tonight?
The Ballad of Boot Hill — Johnny Cash (1959)
Out in Arizona, just south of Tucson / Where tumbleweeds tumble in search of a home / There's a town they call tombstone, where the brave never cry
Big Iron – Marty Robbins (1959)
Now the stranger started talking / Made it plain to folks around / Was an Arizona Ranger
Bobby in Phoenix – Gorillaz (2010)
Let's talk about Phoenix / it's got a way of helping you to breathe a little better
By the Time I Get to Phoenix – Glen Campbell (1967)
By the time I get to Phoenix / She'll be risin'
Carefree Highway – Gordon Lightfoot (1974)
Carefree highway, let me slip away on you / Carefree highway, you seen better days
Closer — The Chainsmokers (2016)
Stay and play that Blink-182 song / That we beat to death in Tucson
Furnace Fan – Robert Earl Keen (2003)
It's hotter than a furnace fan out in Arizona
Get Back – The Beatles (1969)
Jojo left his home in Tucson, Arizona
Gold Dust Woman – Fleetwood Mac (1977)
*Title comes from Gold Dust Lane in Wickenburg*
Hannah Hunt – Vampire Weekend (2013)
Saw crawling vines and weeping willows / As we made our way from Providence to Phoenix
Havalina – Pixies (1990)
Walking in the breeze / On the plains of old Sedona / Arizona
Have Some Love – Childish Gambino (2016)
It's getting hot, it's like a sauna / Then every night, in Arizona
A Horse with No Name – America, George Martin (1971)
*No lyrics, inspired by the Arizona desert*
If You Don't, Don't – Jimmy Eat World (2001)
Ninth and Ash on a Tuesday night
Mesa – Cayetana (2017) 
I thought we'd settle down in Mesa, Arizona
Mesa, Arizona — Jeffrey Foucault (2006)
All alone in a Mexican joint / In Mesa, Arizona
Mill Ave. and Broadway – Sundressed (2017) 
The good part of town off of Mill Ave. and Broadway / We had a house where we thought that we would stay
Mrs. Rita – Gin Blossoms (1992)
*Based on Mrs. Rita's Palm Reading in Tempe*
No Place Like You – Maddie & Tae (2015)
California, cherry cola, sandy skies in Arizona
Ocean Front Property – George Strait (1987)
I got some ocean front property in Arizona
The Painted Desert – 10,000 Maniacs (1987)
In a Flagstaff trailer court, you wrote the line / "He kicked a tumbleweed / And his mother called him home / Where the Arizona moon / Met the Arizona sun"
Readymade – Red Hot Chili Peppers (2006)
I've got a cousin making beats deep down in Arizona
Rock'n Me – Steve Miller Band (1976)
I went from Phoenix, Arizona / All the way to Tacoma
(Get your Kicks On) Route 66 – Nat King Cole (1946)
Flagstaff, Arizona / Don't forget Winona
Sedona – Houndmouth (2015)
Well, hey there, Sedona, let me cut you a deal
Sedona Sunrise – Aerosmith (2006) 
It's as clear as a / Sunrise in Sedona
Smoke Clears – Andy Grammer (2017)
And you lay your head on my shoulder / Couple tears were shed over Arizona
Take It Easy – Eagles (1972)
Well, I'm a standing on a corner in Winslow, Arizona / And such a fine sight to see
Thinkin Bout You – Frank Ocean (2012)
It usually doesn't rain in / Southern California, much like Arizona
Tucson – St. Beaufort (2022)
We broke down just outside of Tucson
Tucson, Arizona – Rory Gallagher (1973)
And I go walking in the Arizona sun / Slow walking peace of mind
Tucson Too Late – Jordan Davis (2023)
Guess I got to Tucson too late
Tucson Train – Bruce Springsteen (2019)
Now my baby's coming in on the Tucson train 
Tune Out – The Format (2003)
The 51 is backed up and too slow
Under African Skies – Paul Simon duet w/ Linda Ronstadt (1986) 
I said take this child, Lord / From Tucson Arizona / Give her the wings to fly through harmony
Weekend Wars – MGMT (2007)
Try to break my heart, I'll drive to Arizona