South Mountain Freeway saves time for commuters, businesses
South Mountain Freeway saves time for commuters, businesses
By Tom Herrmann / ADOT Communications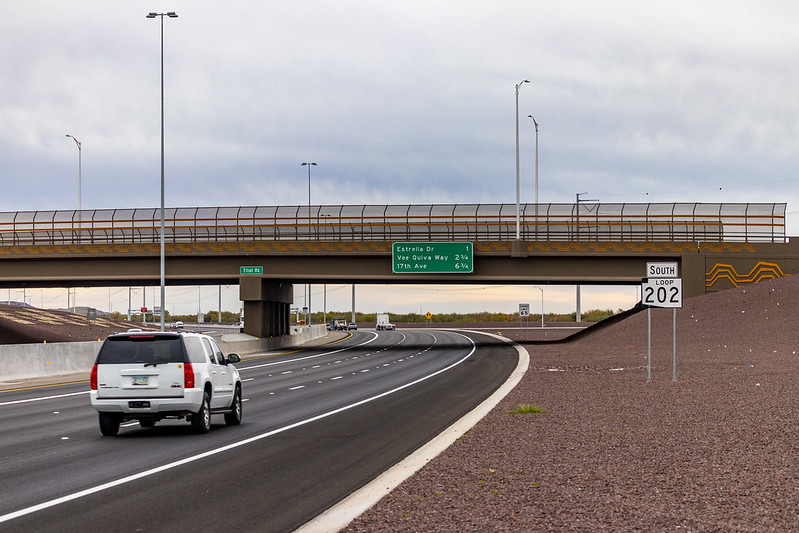 If the FedEx delivery drivers think they spend a lot of time behind the wheel, they should talk to operations manager Kevin Hoffman.
Hoffman commutes every day from his home in Gilbert to the FedEx Ground center near 51st Avenue and Lower Buckeye Road, a drive of about 35 miles.
Count Hoffman among those happy that the Loop 202 South Mountain Freeway opened a little more than three months ago.
"I save about 20 minutes going home in the evening" by using the South Mountain Freeway instead of taking I-10 through downtown Phoenix and other busy freeways to get home. He also saves time on his drive to work each morning, he said.
FedEx is among several companies that have benefited from the new freeway, which gives drivers an option to avoid potential congestion in central Phoenix.
"All our Chandler and Casa Grande routes run this way now," he said. "It reduces travel time greatly instead of using Broadway to I-10 or taking 51st Street all the way down through the (Gila River Indian Community) reservation."
Bob Nally, president of Apache Equipment Rentals, 5757 W. Jefferson St., can see the South Mountain Freeway from his company's front door. He also said having access to the freeway saves his transport drivers time on every trip, including those across the Salt River.
"Our transport drivers are appreciative of having the bridge as another way to cross the river," he said.
Kevin Danzeisen, general manager of Danzeisen Dairy, 6024 W. Southern Ave. in Laveen, said having a new and reliable route helps his company's drivers a lot.
"It takes us just five minutes to get to the farm with the bridge," Danzeisen said.
Although many people look at the freeway as providing an alternative route for drivers who need to travel from one side of the Valley to the other, Ed McDermott of FedEx says it has a proven to reduce commute that never leaves the West Valley.
"I can tell you my commute from Goodyear (to 51st Avenue) has dramatically improved," he said. "I use the South Mountain Freeway rather than the surface streets every day."