Spanish Blog: ¡CUIDE SU VIDA, ORÍLLESE!
NOTE: Today's blog, for our Spanish-speaking audience, covers tips on driving in a dust storm. It's always best to avoid driving into a dust storm. If you get caught in one, here's what to do.
By Lourdes Lerma / ADOT Communications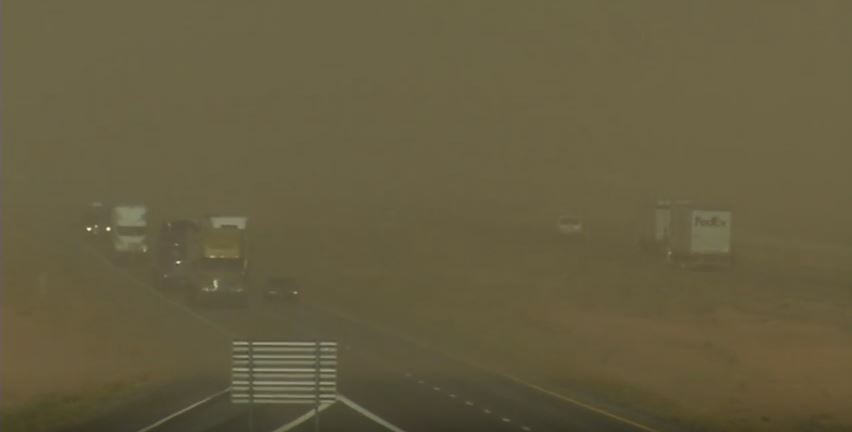 En Arizona, durante abril y mayo, los vientos fuertes han provocado bastantes tormentas de polvo/arena causando accidentes en las carreteras. Por este motivo ADOT considera importante recordar qué pasos debemos seguir cuando estamos conduciendo en la carrtera y nos encontramos de repente con una tormenta de polvo.
Evite conducir hacia una tormenta de polvo.
Si ya se encuentra en una tormenta de polvo, inmediatamente observe el tráfico alrededor de su vehículo (enfrente, atrás y en los lados) y empiece a disminuir la velocidad.
No espere hasta que la poca visibilidad le dificulte salirse del camino – hágalo lo más pronto posible. Si puede, salga completamente de la carretera.
No se detenga en un carril de uso normal ni en el de emergencia. Busque un lugar seguro para poder salirse completamente del pavimento.
Asegúrese que su vehículo esté a una distancia segura lejos del camino principal, y lejos de dónde otros vehículos puedan circular.
Para prevenir que otro vehículo lo choque al guiarse por las luces encendidas de su vehículo estacionado, apague todas las luces incluyendo las luces de emergencia.
Ponga el freno de emergencia y quite el pie del pedal del freno.
Manténgase en el vehículo con el cinturón abrochado y espere a que la tormenta pase.
Los conductores de vehículos pesados deberían tener más cuidado en el cambio de las condiciones del clima y viajar a velocidades reducidas.
Nada es más importante que su vida, no conduzca en situaciones de riesgo, es mejor hacer buen uso de la paciencia y esperar a que la tormenta pase.
¡Cuide su vida… Oríllese!
Si tiene preguntas puede comunicarse conmigo al [email protected].
---
Spanish Blog Series
To better serve Arizona's Spanish-speaking community, our occasional Spanish blog series covers all aspects of transportation including safety and the Motor Vehicle Division.