Spanish Blog: Manténgase fuera de las ÁREAS CIEGAS (No-Zone en inglés)
NOTE: Today's blog, for our Spanish-speaking audience, covers how to safely drive near semitrailers and other large trucks. An English version of this blog is available here.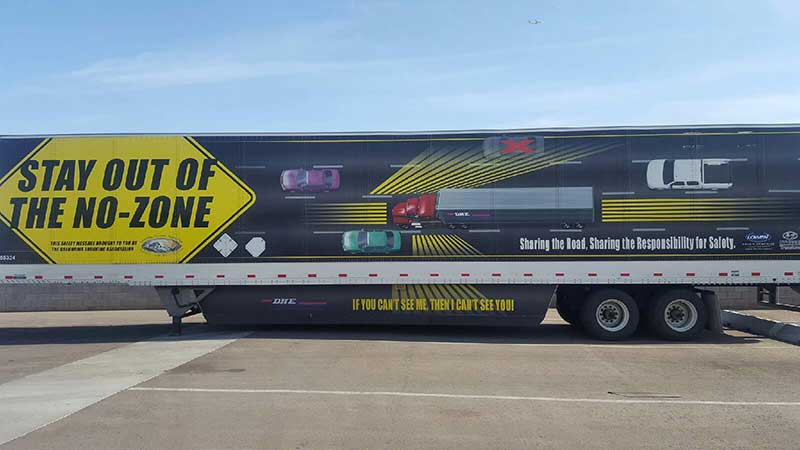 Por Lourdes Lerma / ADOT-Comunicaciones
¿Sabe usted que necesita una reserva de espacio alrededor de su vehículo cuando viaja cerca de un camión de carga/tráiler?
Hace unos días iba conduciendo por el Interestatal 17 con dirección sur, a mi lado iba circulando un camión de carga/tráiler de los que tienen 18 llantas/neumáticos. De repente, escuché un fuerte ruido, vi como el camión se estremeció y le empezó a salir humo de las llantas (todo pasó en fracción de segundos). Continué conduciendo en mi carril y vi que justo enfrente del camión se encontraba un carro tipo sedán, que de manera peligrosa frenó, intentando cambiar al carril de la derecha para llegar a la rampa de salida del Interestatal 10. Gracias a que el conductor del camión iba atento al camino, pudo evitar que varios vehículos chocáramos.
Cuando viajo por carretera, muy a menudo observo a vehículos que rebasan a los camiones de carga y que se les hace fácil colocarse justo enfrente del camión sin guardar una distancia segura.
Cuando viaje cerca de semi-remolques/camiones es importante recordar las "Áreas Ciegas", esos ángulos a los lados del camión que impiden que los choferes observen a los vehículos viajando a su alrededor. Siempre tenga en cuenta lo siguiente:
Nunca maneje muy cerca de los semi-remolques, enfrente, atrás ni a los lados.
Nunca maneje enseguida de la cabina del chofer del camión.
Este video de CNN le explica por qué es importante guardar su distancia.
Si usted no puede ver la cara del chofer en el espejo lateral del camión entonces el chofer tampoco puede ver el vehículo de usted. Y recuerde, los vehículos pesados necesitan tiempo y espacio adicional para frenar, así que siempre mantenga una distancia segura.
Si tiene preguntas puede comunicarse conmigo al [email protected].