State Transportation Board approves funding for shorter US 89 detour
State Transportation Board approves funding for shorter US 89 detour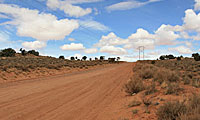 Good news for drivers who have seen their commute impacted by the US 89 landslide…
Last Friday (April 12), during its monthly meeting in Tucson, the State Transportation Board approved funding to pave Navajo Route 20.
You might remember that last month we told you about N20 – it's the Navajo Nation tribal road that runs parallel to US 89. Once improved, N20 could establish a shorter route for the many drivers who regularly travel to Page and the Lake Powell area (see we told you it was good news for drivers!).
While the primary detour to and from Page and the Lake Powell area has been established by using US 160 and State Route 98, ADOT acknowledges the 115-mile-long detour, which is 45 miles longer than the direct route, can be a burden on drivers who have to use it every day. By paving N20, the detour route would be cut nearly in half and similar in length to the closed US 89 route.
The $28 million N20 paving project is scheduled to start next month — as long as all right-of-way and environmental agreements can be obtained through the Navajo Nation, Bureau of Indian Affairs and the Navajo Division of Transportation.
"After numerous face-to-face meetings, roundtable discussions and several presentations from Window Rock to Flagstaff, ADOT and its many partners, including Navajo Nation, Navajo Division of Transportation, Bureau of Indian Affairs and the Federal Highway Administration, have demonstrated great teamwork to put us in position to begin paving Navajo Route 20 next month if all agreements can get signed, sealed and delivered," said Dallas Hammit, ADOT deputy state engineer of development. "ADOT is anxious to move forward to pave this road and create a more direct temporary detour route."
The project would improve the existing 44-mile-long tribal route and upgrade so it could accommodate the anticipated traffic volumes, including commercial truck traffic. The major work is paving 27 miles of dirt road stretching from Bodaway-Gap to LeChee.
Construction could begin next month. ADOT's goal would be to complete the work by early summer.
The project is eligible for reimbursement through the Federal Highway Administration's emergency relief program, which provides funding to state and local agencies for the repair or reconstruction of highways, roads and bridges that are damaged in natural disasters and catastrophic failures. ADOT has already received $2 million in quick release funds to assess the damage and the stability of the mountain slope and conduct emergency operations.
The State Transportation Board designated N20 as Temporary US 89 (US 89T) during its special telephonic meeting on March 21. It had to be designated a state route before ADOT could spend any money improving the road. After the reconstruction of US 89 is complete, US 89T will be relinquished to the Navajo Nation.
There is no timetable for reopening the highway, but ADOT is committed to restoring this important travel route as soon as safely possible.
ADOT is currently conducting a geotechnical investigation, which is the first phase of the solution. Crews are monitoring the stability of the slope and the ultimate repair of US 89 will be based on the results of the geotechnical work.