With summer here, projects in northern Arizona ramp up
By Ryan Harding / ADOT Communications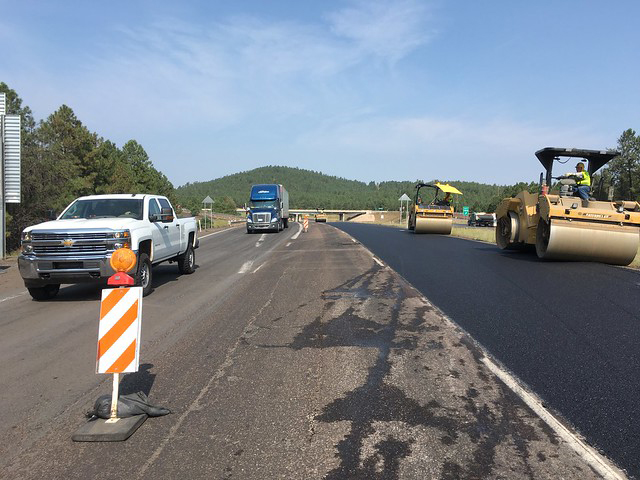 Hibernation is over for bears, chipmunks and snakes – and now highway projects in northern Arizona.
As temperatures warm up to the proper levels for paving, ADOT will start or continue work from last year on repairing winter weather damage to pavement along state highways.
Work on a 17-mile stretch of Interstate 40 is picking up from last summer with crews repairing the ramps at the Grand Canyon Boulevard interchange in Williams. They will also lay new pavement down along the interstate creating a smooth ride for travelers and truckers.
Another project picking up from last summer is work on the last 28 miles of northbound Interstate 17 to Flagstaff. Last year, crews rebuilt the highway from milepost 312 to 315 and replaced the bridge structures in each direction at Willard Springs Road with a new, innovative technique.
Crews will pave the rest of the stretch of highway, repairing worn out pavement and smoothing over filled potholes created from freeze-thaw cycles.
With pavement improvements to the main interstates in the Flagstaff area pretty well in hand, ADOT will turn its attention to improving pavement conditions along a 13-mile stretch of State Route 89A from uptown Sedona to the Pumphouse Wash Bridge. This project is expected to begin later this summer.
While there's a lot of highway work to do during the summer weather window, ADOT takes steps to minimize the impact to traffic during the weekends – even stopping work on major summer holidays like Memorial Day weekend, the Fourth of July and Labor Day weekend.
As you keep an eye out for bears and other wildlife now up and about while exploring the high country, keep up-to-date on highway projects as well by visiting az511.gov or calling 511.