Thinking outside the box at I-17 and Pinnacle Peak Road
By Kim Noetzel / ADOT Communications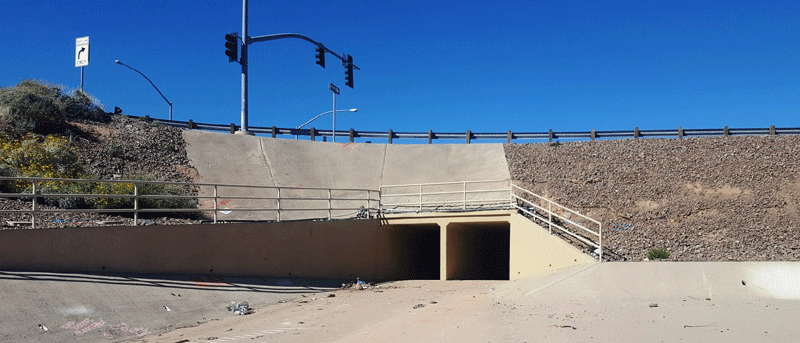 Drivers who use Pinnacle Peak Road at Interstate 17 will soon experience the first major impact of the $50 million project to reconstruct two overburdened traffic interchanges in north Phoenix. A section of Pinnacle Peak Road directly east of I-17 is scheduled to close for 23 days as crews remove and replace a drainage box culvert beneath the roadway.
The closure is scheduled to be in place around-the clock from early Tuesday, Feb. 19, until the early Thursday, March 14. Drivers who rely on Pinnacle Peak Road in the area will need to use alternate routes and, for those 23 days, allow plenty of extra travel time because of heavier-than-usual traffic. Learn more about detour routes.
Removing and replacing a concrete culvert can be a large and complicated endeavor. Culverts come in different shapes and sizes depending on various factors, such as location and climate. They function as cross drains, allowing water to flow under a road, highway, railroad or other man-made obstruction from one side to the other. You probably haven't thought much about – or even noticed – the box culverts situated just below the streets and highways you drive on every day because, let's face it, they aren't terribly exciting.
That is, until it's time to replace a really big one made from reinforced concrete and steel and nearly as long as four semi-trucks.
The culvert under Pinnacle Peak Road at I-17 is 6 feet high, 8 feet wide and a whopping 199 feet long. To remove it, crews need to work carefully beneath the roadway where they'll break up the existing concrete-and-steel structure into smaller sections and haul it all away. At the same time they'll build a new box culvert in its place – even wider and longer – to accommodate the new tight-diamond traffic interchange being constructed at I-17 and Pinnacle Peak Road.
There is light at the end of the tunnel (or culvert, in this case). With the larger culvert in place, ADOT can then build the new I-17 interchange at Pinnacle Peak Road that features two through lanes in each direction; two dedicated left-turn lanes; dedicated right-turn lanes; and bicycle and pedestrian walkways. See a before-and-after image of the existing interchange compared to the new one.
After work is done at Pinnacle Peak Road, the project will shift to I-17 and Happy Valley Road, where plans call for removing the roundabouts and building a diverging diamond interchange. Removing the roundabouts also promises to be no small feat, so stay tuned for another blog when this project reaches that long-awaited milestone.