Thirty-seven years of volunteering for Adopt a Highway
By Caroline Carpenter / ADOT Communications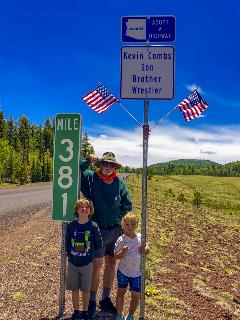 Committing to anything for 37 years is a long time. When it's to pick up trash, some might not even consider it. That's not the case for two Adopt a Highway volunteers who have been picking up litter along a stretch of State Route 273 near Sunrise Lake since 1982.
Stephen and Nancy Combs adopted their first segment of highway to honor their son, Kevin. They later adopted another section to remember Stephen's parents, Lola and Noy "Bushy" Combs. Stephen says, "Each sign reminds us of the good times and stories of a time gone by. Every now and then we hear from someone who has passed by Kevin's sign, and it is nice to know he's not forgotten."
The Combs live near Gold Canyon but have always spent time in the White Mountains. Stephen tells us Bushy Combs helped build many of the roads on the Rim in the 1960s. Stephen now shares his love the White Mountains by taking his grandkids up north to go fishing. He says adopting a highway is "a great excuse to get out of the heat and enjoy the cool temperatures up north."
Over the past 37 years, three generations of the Combs family have honored their deceased family members through the Adopt a Highway program. Signing up to adopt a highway only requires a two-year commitment, but we can only imagine Kevin, Lola and Bushy Combs would be proud of the many years their family has been working to keep the White Mountains beautiful.