Throwback Thursday: First Arizona license plates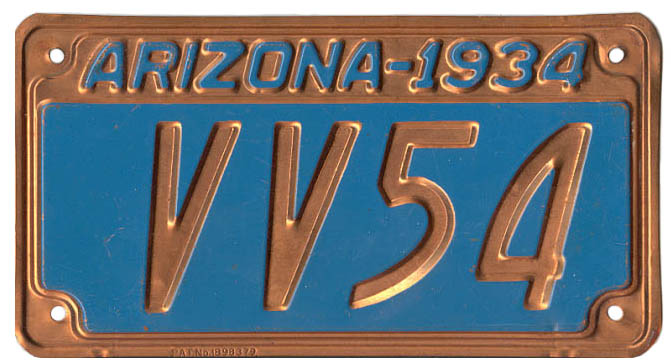 By Peter Corbett / ADOT Communications
Arizona's original license plates more than a century ago were so personalized that early horseless carriage owners made their own tags of leather, metal or hand-painted pine boards.
Today, the Arizona Department of Transportation Motor Vehicle Division offers dozens of colorful specialty plates printed on aluminum along with standard-issue plates.
But when statehood arrived in 1912, Arizona didn't make license plates. Instead, the secretary of state issued automobile owners a numbered aluminum medallion, typically mounted on the dashboard.
"Owners purchased metal license plates from businesses or made their own tag with the medallion number on it," said Gary Fox, an Arizona license plate collector and a member of the Automobile License Plate Collectors Association.
Some car owners just painted the medallion number on their cars, Fox said.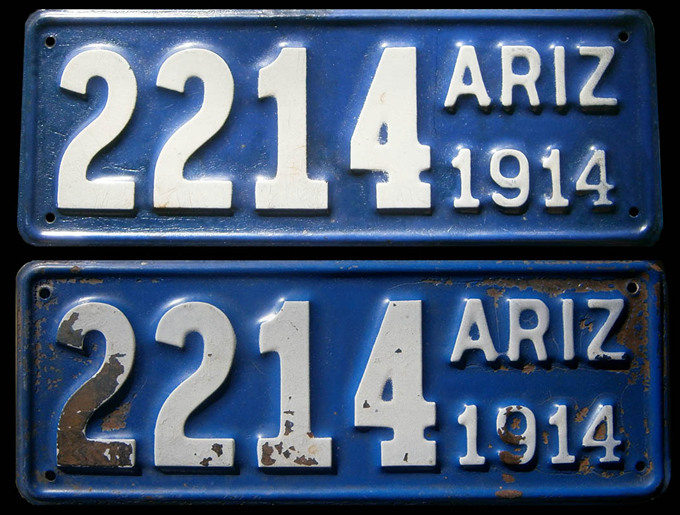 Arizona's first plates, issued in 1914, were blue with white letters and about half the height of today's tags.
Plates made of copper, issued from 1932-34, became popular with collectors and today sell for several hundred dollars each.
Arizona's 1917 plates featured a steer-head icon that is believed to be one of the first images on U.S. license plates. The steer was gone the next year and never reappeared.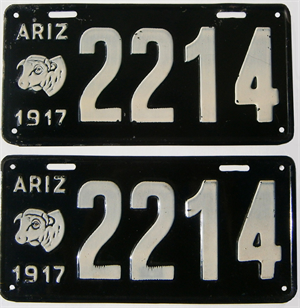 Plates with county names were issued in 1936-38. Collectors try to get all 14 counties (there are 15 counties now), but it can be difficult to find plates from some of the smaller counties, said Fox, whose collection of historic plates is featured on his website: azplates.com.
His site reveals these other details of license plate trivia:
The Grand Canyon State slogan first appeared on Arizona plates in 1940.
Arizona started offering personalized plates in 1975.
Over the past half century, the standard plates have been tan with black letters from 1966-68; yellow plates with black letters from 1969-72; mustard yellow with green letters from 1973-80; and maroon with white letters from 1980-97.
Arizona's current multicolored design with purple mountains and saguaros arrived 20 years ago. Since 2008, the plates no longer feature embossed or raised letters and numerals.