Throwback Thursday: In Flagstaff of 1966, parking was no sport
By Laurie Merrill / ADOT Communications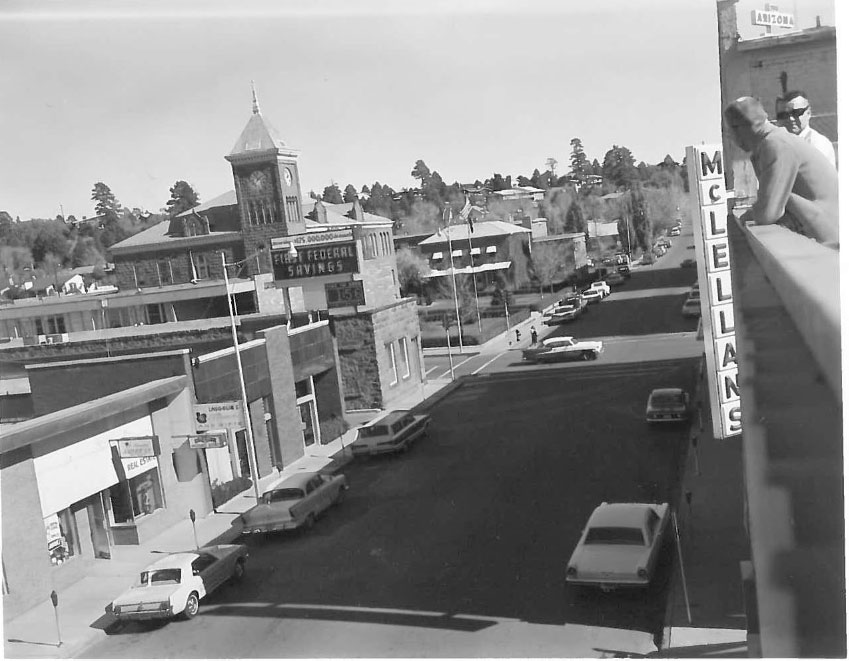 In 1966, when the large steel-and-chrome cars of the era took up more space, there was still plenty of parking in downtown Flagstaff, as shown in this ADOT photo offering a slice of life along Birch Avenue east of Leroux Street.
Styles were different then. The men in crew cuts on the rooftop in the afternoon sun clearly liked their hair short, while the Pontiacs, Chevrolets and Fords on the street below showed they liked their cars long.
Also different was the one-way direction of Birch Avenue, which now runs westbound instead of eastbound, as it did in 1966.
The McLellan's five-and-dime store in the foreground is no longer part of the scene – that building is now home to restaurants and shops. The same goes for the First Federal Savings building.
The Coconino County Courthouse, however, has been a fixture on the corner of San Francisco and Birch since its construction in 1894.
Why was this photo in the ADOT archives? Well, we aren't exactly sure. The 1966 telephone directory's entry for the Arizona Highway Department (our former name) doesn't list an address in that area of Flagstaff. But we thought you'd enjoy the photo nonetheless.