Throwback Thursday: A friendly smile and helping hand at commercial ports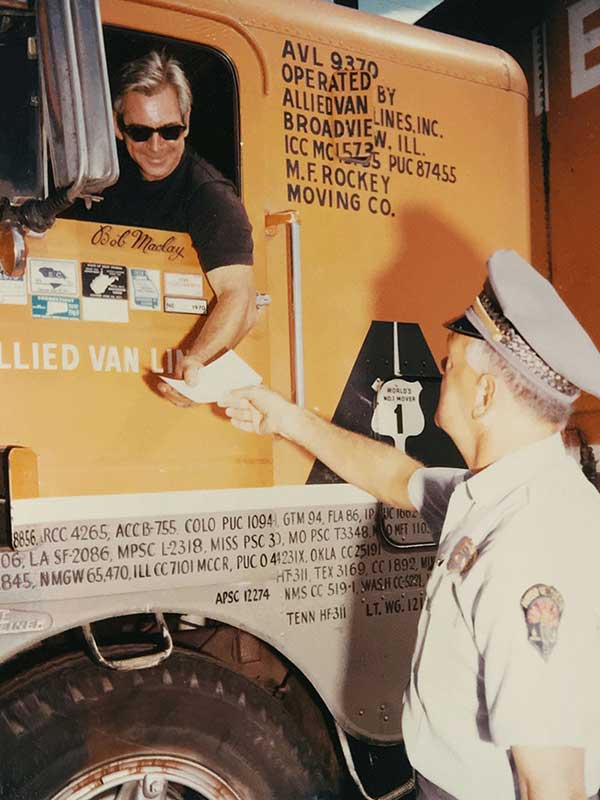 By Lauri Merrill / ADOT Communications
As this vintage photo of a smiling driver and a pleasant inspector illustrates, trucking has always been a vital part of Arizona commerce and a frequent sight on our roadways. To help facilitate commerce while keeping highway safe, ADOT's Enforcement and Compliance Division conducts safety inspections and handles permits at commercial ports of entry.
Whether it's Motor Vehicle Division officers back in the day, as shown in this week's Throwback Thursday entry, or today with officers with ADOT's Enforcement and Compliance Division manning commercial ports of entry, this relationship is all about safety and supporting the economy.
The state-certified police officers with the Enforcement and Compliance Division focus on transportation issues including commercial vehicle enforcement, title, registration and driver's license fraud, unlicensed auto dealers and commercial vehicle permits.
Using the Arizona Management System and its focus on improving value to customers, ADOT also is finding ways to make commercial ports even more effective. This includes efforts by our Border Liaison Unit to educate truckers and companies in Mexico on what is involved in ADOT safety inspections.
Those who complete the International Border Inspection Qualification can message ADOT inspectors via WhatsApp to find out whether a particular situation involving a truck needs to be addressed before coming to the commercial port. As a result of this program, instances in which qualified drivers have their trucks stopped for major issues have dropped to almost none.
These innovations help create congenial moments much like the one shown in the photo above.