Throwback Thursday: Hollywood magic at Mule Pass Tunnel
Throwback Thursday: Hollywood magic at Mule Pass Tunnel
By John LaBarbera / ADOT Communications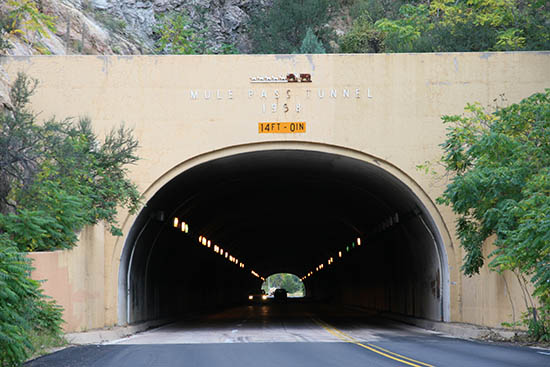 Most folks of a certain age remember the 1981 summer blockbuster "The Cannonball Run," a comedy featuring an all-star cast of oddballs participating in a cross-country race from Connecticut to California.
But few might recall the equally star-studded sequel, "Cannonball Run II," which Siskel and Ebert called "A real bad movie … to expect anyone to spend five bucks on this garbage is amazing," and "[A] skunk from the word 'go,' [an] absolute bomb." Gene Siskel even went so far as to call it his least favorite movie ever reviewed during his time on the television program "At the Movies."
Despite its reputation, "Cannonball Run II" earns a place in our blog for the simple fact that a good portion of the movie was filmed in and around southern Arizona.
One scene in particular depicts a helicopter piloted by mobsters Abe Vigoda and Alex Rocco attempting to electromagnetically lift a Rolls Royce driven by "M.A.S.H.'s" Jamie Farr as it speeds down a highway toward a dark tunnel (And this is supposed to be a bad film?). If you don't blink, that moment can be briefly spotted 33 seconds into this terribly cheesy trailer.
That highway? State Route 80. That tunnel? Mule Pass Tunnel, just north of Bisbee.
State Route 80 traces its roots to US Route 80, which became part of the U.S. highway system in 1926. Known as the Broadway of America, US 80 extended from Savannah, Georgia, to San Diego for more than 60 years. By 1989, all of US 80 west of Dallas was decommissioned in favor of interstates. What remained of US 80 in Arizona, from Benson to the New Mexico state line, became State Route 80.
The Mule Pass Tunnel was commissioned out of necessity in the late 1950s. Before that, the only way through the Mule Mountains just north of Bisbee was following the treacherous path known as "The Old Divide." That passage forced the driver (or wagoner) to navigate the mountains' dangerous (and often times deadly) switchbacks.  Crews worked for 23 months to bring the $2 million ($17.2 million in today's cash) project to life. It was the largest improvement venture in the history of US Route 80. Mule Pass Tunnel opened to much fanfare in December 1958 and remains Arizona's longest highway tunnel. You can read more about the Mule Pass Tunnel on the ADOT Blog, where we commemorated its 60th anniversary two years ago.
Despite the critics' best efforts, "Cannonball Run II" was a modest success at the box office, earning more than $56 million worldwide off a budget of around $20 million. And we can't help but think that maybe Mule Pass Tunnel helped with that.