Throwback Thursday: Nearly a century ago, Arizona Highways was a little different
By David Rookhuyzen / ADOT Communications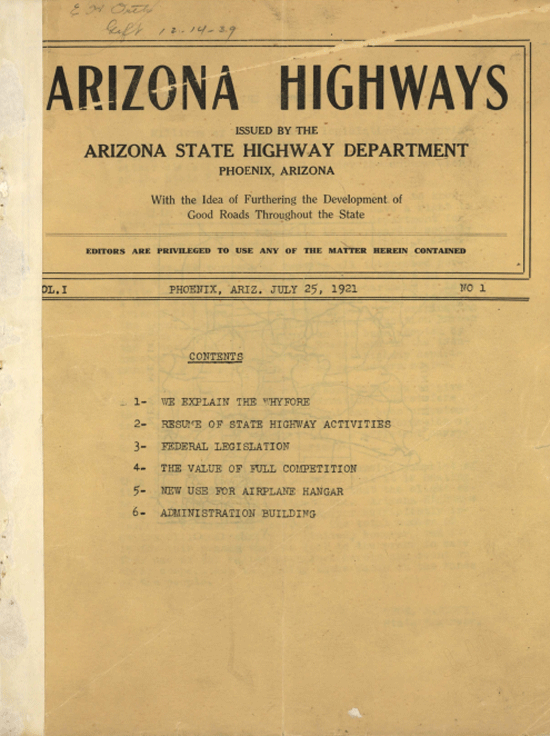 On this date in 1921, nine years and some months after statehood, the Arizona Highway Department published the first incarnation of Arizona Highways.

Looks a little different from the glossy magazine featuring stunning landscape photography and rich storytelling about Arizona, doesn't it?

This first printing, shown above, was a pamphlet describing various highway projects across Arizona's counties.

And that's it. Page after page about construction projects, federal legislation and a couple of industry articles. No photos, no travel tips, no must-see destinations.

The pamphlet's forward, charmingly called "The Whyfore," sums up the reason for the publication's existence:
"For the purpose of keeping all interested persons informed concerning highway development in this state it has been decided by this department to issue a news letter from time to time under the title Arizona Highways."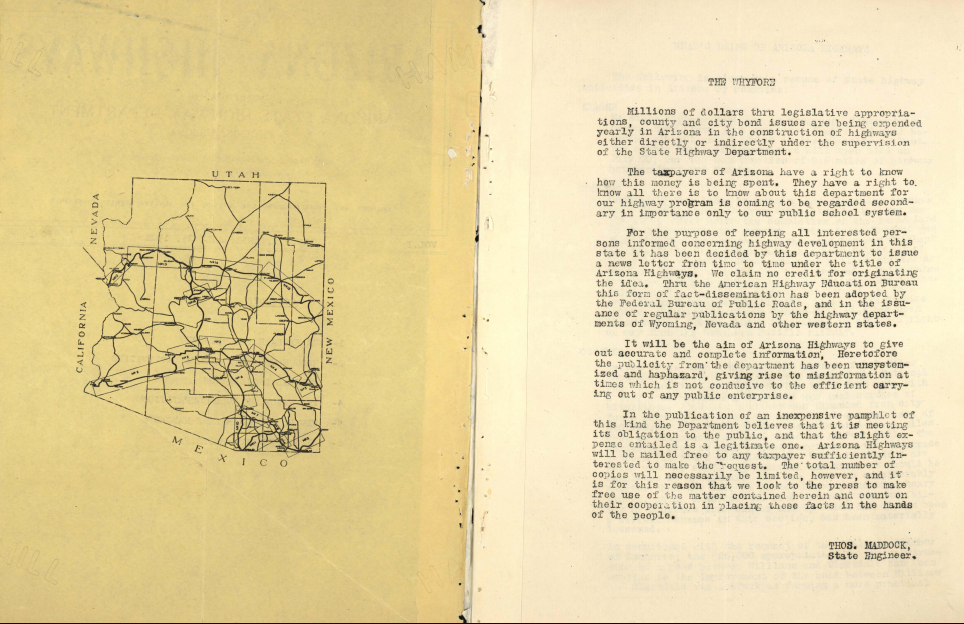 Some highlights include the completion of 1.1 miles of paving along the National Old Trails Highway through Flagstaff, the delay of the Benson-Vail road due to not having the necessary right of way, "satisfactory progress" on a 1-mile contract on the Superior-Miami Highway near the head of Pinto Creek and the opening of bids for paving 3 miles of highway from the eastern city limits of Phoenix to Tempe.

Fortunately for lovers of Arizona's scenery everywhere, the pamphlet would be spun off into magazine form starting in 1925.

If you want to know about current projects across Arizona, you can find those on our website. But if you want to see how beautiful a scene drive through the state can be, we suggest subscribing to the current version of Arizona Highways.

You can learn more at ArizonaHighways.com.