Tips for your next trip to an emissions testing station
Tips for your next trip to an emissions testing station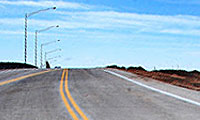 By Doug Pacey
ADOT Office of Public Information
Officially, the Arizona Department of Transportation does not administer vehicle emissions tests – those are performed and governed by the Arizona Department of Environmental Quality.
But because vehicle emissions tests can be required to register and renew registration with the Motor Vehicle Division, we thought it'd be a good idea to pass along some tips to make your next trip to an emissions testing station a quick one.
First, know if you need a vehicle emissions test to renew your registration. This information will be on the renewal notice.
Next, find the nearest station and pick a time when stations have the fewest customers. Typically, wait times are shortest during the middle of the month; middle of the week and after 5 p.m. on weekdays; and Saturday afternoons. Can't plan that far ahead? No problem, ADEQ provides up-to-the-minute wait times for its stations here, indicating if waits are less than 10 minutes, between 11 to 20 minutes and more than 20 minutes.
For more detailed information on vehicle emissions tests – what to bring, costs, waivers, etc. – ADEQ has put together an exhaustive resource.