From traffic to the weather, az511 now has you covered
From traffic to the weather, az511 now has you covered
By David Rookhuyzen / ADOT Communications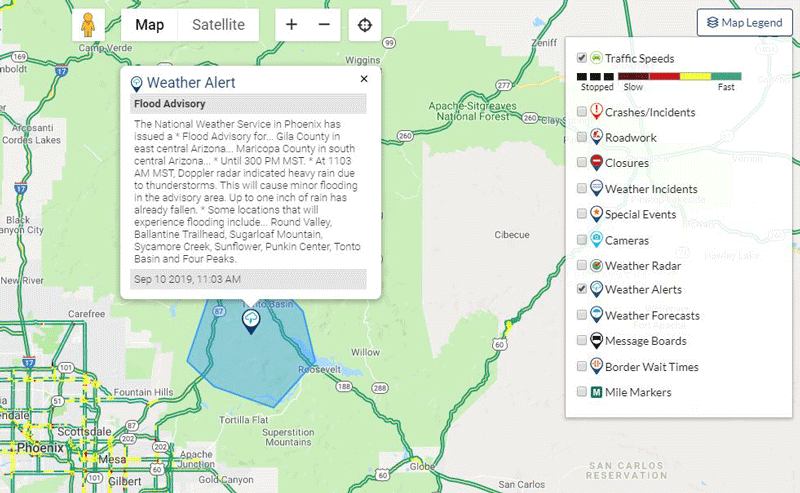 It's time for that big family trip to the Grand Canyon. Everyone's ready, the car's packed and the destination entered into the GPS.
Only things left before hitting the open road are double-checking the traffic and the weather. And thanks to some help from the National Weather Service, you can do both with a quick stop at our Arizona Traveler Information site, az511.gov.
Since we revamped the traveler information site last year, users have been able to see forecasts and a live weather radar to track potential precipitation, in addition to information about incidents, road closures, construction and heavy traffic. But now we've added functionality with the ability to see National Weather Service watches, warnings and alerts.
Like other features at az511.gov, you can select "Weather Alert" from the menu on the right side of the screen. Storm cloud icons will populate the map if any watches, warnings or alerts are active. Just click on one of those icons to see the text, along with a map of the area involved. And just like that you have a good idea about what to expect on that drive up Interstate 17, whether it be fellow tourists or a possible thunderstorm.
Even if you are not leaving town, you can use this new feature to check for excessive heat warnings or even whether a monsoon storm is estimated to hit during your commute home, all while also looking at your customizable list of cameras and traffic alerts.
This is just the latest in a long line of features and options designed to help you be a more informed driver and to get from Point A to Point B safely and on time. If you haven't already, register for a free MyAZ511 account and download our 511 app for iOS and Android devices.