Transportation Defined: Lead Abatement
While it does have a number of valuable uses, lead can be pretty toxic to humans and animals, so it's best to steer clear the stuff when possible.
But, if you can't avoid it – say when it's in paint that was used to coat the surface of a 100-year-old bridge you've been charged with rehabilitating – your best bet is to have it safely removed by professionals.
That's the route ADOT took, as you can see in the video above.
Lead abatement
According to ADOT Hazardous Materials Coordinator Ed Green, any painted surface that's going to be modified, renovated or demolished by ADOT is always tested for lead.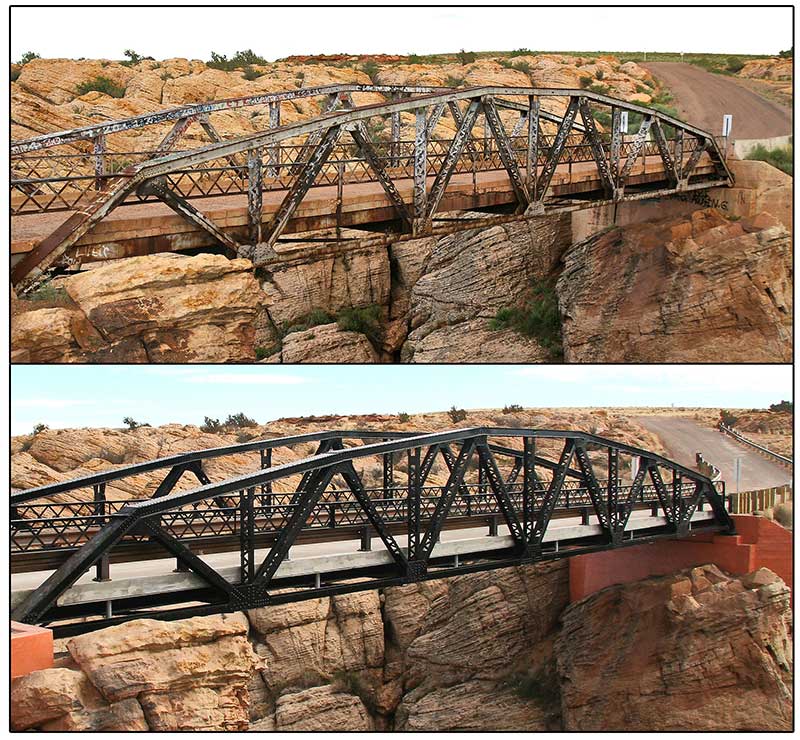 If a structure tests positive, as was the case with the Chevelon Creek Bridge, steps are taken to either remove the lead paint or encapsulate it so it's not a hazard to the environment.
For the Chevelon Creek Bridge, the only option was to completely remove the paint…
Located in Navajo County, about 12 miles southeast of Winslow, the Chevelon Creek Bridge was built in 1913 on the old road that connected Winslow and Holbrook prior to the construction of Route 66.
The bridge, which had been painted and re-painted several times since it was first constructed over 100 years ago, was due for a little rehab that included deck replacement, steel repairs, etc. (we'll tell you more about the entire project soon).
In order to comply with the National Environmental Policy Act, crews had to figure out how to get the lead paint off the structure without introducing it into the environment and water below.
"What we had to do is what we call lead abatement, which means we're going to remove all that lead-bearing material and get it out of the environment," says ADOT Historic Preservation Specialist David Zimmerman in the video above. "We're going to take it to a special landfill where they're engineered to deal with these kinds of materials."
How'd they do it?
Crews built a temporary aluminum deck underneath the bridge. Next, they covered the whole bridge in plastic so that none of the toxic lead paint could fall into the canyon below.
Once the bridge was "cocooned" in plastic, workers sandblasted the lead paint off the structure, contained it and properly disposed of it before repainting the bridge using modern, non-lead based paint.
Fun fact: Since sand is very abrasive and would have degraded the bridge's metal, crushed walnut shells were used to blast the paint off (baking soda can also be used for a less abrasive "sand" blast).
Transportation Defined is a series of explanatory blog posts designed to define the things you see on your everyday commute. Let us know if there's something you'd like to see explained ... leave a comment here on the blog or over on our Facebook page!