US 89 improvements in Cameron increase safety and mobility
US 89 improvements in Cameron increase safety and mobility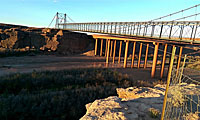 By Caroline Carpenter / ADOT Communications
An ADOT project creating two new bridges over the Little Colorado River, a wider roadway, a modern roundabout at the junction with State Route 64 and four new underpasses is now complete on US 89 in Cameron, 50 miles north of Flagstaff. Check out the upgrades in the Flickr album above!
The $36.7 million project increases safety with a wider highway, raised median and new lighting, while pedestrians gain mobility with new sidewalks and underpasses.
All of the work on the two-year project has been documented on the ADOT Flickr page. Find additional details on the project in our news release.