A visit from Rocky helps mark milestone for Ina Road/I-10 project
A visit from Rocky helps mark milestone for Ina Road/I-10 project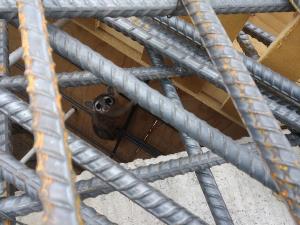 Crews are making progress at Ina and I-10! They have poured the bridge deck that will take Ina Road over I-10. Get the latest project updates here: https://t.co/3l2so5JEcn pic.twitter.com/tvVgfL22TU

— Arizona DOT (@ArizonaDOT) November 8, 2017
By Tom Herrmann / ADOT Communications
Everything was in place. The truck with 70 yards of hose to hoist concrete from the trucks on the ground to the new bridge that will carry Ina Road over Interstate 10. Rebar to hold the cement in place. The roller screed that would smooth out the surface. Even the rolling platform that experienced tradesmen would use to spray curing compound on the surface.
Just one very small problem: Rocky the Ringtail.
You remember Rocky. It's his picture on the Arizona driver license that was redesigned in 2014. We held a contest to name him and you chose the name suggested by Rory of Peoria, who at the time was just 7 years old.
We hadn't seen Rocky for a while until he turned up Tuesday morning, all warm and cozy under the lattice of rebar that is to become the surface of the new bridge. Unfortunately, Rocky's hideaway was about to be covered in concrete.
As soon as some engineers explained what was happening, Rocky packed his things, waved goodbye and moved on. The last we saw him, he ran down the embankment, across the future lanes of eastbound I-10 and off into the desert.
Rocky should have known we were coming. The Ina Road project – adding a lane in each direction on both I-10 and Ina, building a bridge to carry Ina over I-10 and the railroad tracks and new bridges over the Santa Cruz River – has remained on schedule since it began back in February. We're on track to finish on time in early 2019.
It's a good thing our friend kept running. Those new lanes on I-10 will begin taking traffic in about five weeks.
See you next time, Rocky. Take care of yourself.