Webcams beam images of faraway Arizona places
Webcams beam images of faraway Arizona places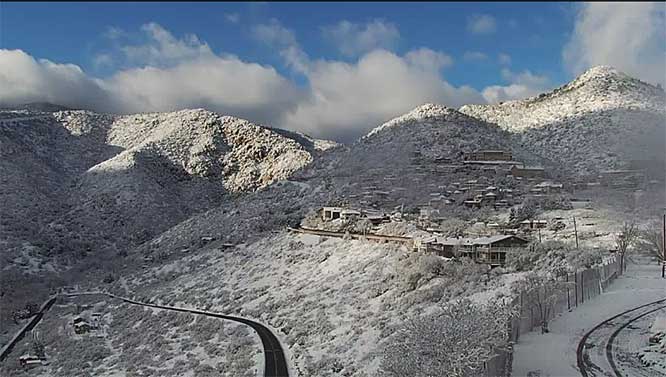 By Peter Corbett / ADOT Communications
The many cameras available via our Arizona Traveler Information site at az511.gov aren't the only way to see how weather may affect trips on state highways.
Those of us communicating from the Traffic Operations Center often engage non-ADOT cameras across the state to check weather conditions – or maybe just see places we'd rather be when triple-digit temperatures hit. Webcams located at Flagstaff, the Grand Canyon, Jerome and Lake Havasu City help us inform travelers via ADOT's Twitter and Facebook accounts.
At FlagstaffArizona.org, the Flagstaff Convention and Visitors Bureau has a very good HD camera atop the train depot. It beams images of the San Francisco Peaks, Leroux Street, Route 66 and the train yard and even transmits ambient sound of trains rumbling past and howling winds.
In July, we caught glimpses of an Independence Day parade downtown, and this past winter we watched a raptor swoop down toward the snowy Amtrak platform. When snow falls, the camera captures street scenes suitable for a Currier and Ives lithograph.
The webcam, operating since June 2015, is a favorite for in-state, u.s. and international tourists interested in Flagstaff, said Lori Pappas, a spokeswoman for the Flagstaff Convention and Visitors Bureau.
"It's a good tool for people," she said. "now that we're on the cusp of fall, they can check on opportunities for coming north to see the leaves changing colors."
The webcam also reminds desert dwellers to be prepared for Flagstaff weather rather than showing up in shorts and flip-flops in December, Pappas added.
the site has links to webcams for northern Arizona University, the National Weather Service, Arizona Snowbowl, ADOT and Grand Canyon National Park.
The National Park Service has long had a fixed camera at Yavapai Point overlooking Grand Canyon. This year, it added a camera at the South Rim entrance gate on State Route 64, which shows when traffic is backed up entering the park. one recent morning, there were no cars at the gate, but the camera captured an elk seemingly waiting to get in the park.
In western Arizona, the Lake Havasu City Convention and Visitors Bureau's golakehavasu.com installed an HD camera aimed at the London Bridge. it pans across the channel as boaters, paddle boarders and kayakers float across the water and under the bridge. imagine looking at those scenes from snowy climes in March.
Another favorite webcam is operated by KZRJ-FM, kzrjlivecam.com, in Jerome. The station's HD camera scans across historic homes and buildings on Cleopatra Hill, shows vehicles traveling along State Route 89A and swings around to show the Verde Valley and even the distant San Francisco Peaks. Jerome is always photogenic, but the town is in its Sunday best in snowstorms or fog.
It's easy to sit on your sofa and take a virtual trip via these cameras, but sometimes the views inspire us to hit the road for real because the remote images are so compelling.