Work wraps up on I-10 (Papago Freeway) in West Valley
Work wraps up on I-10 (Papago Freeway) in West Valley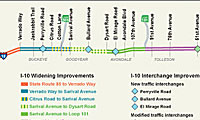 The wait is over!
After more than three years since work first started, West Valley motorists now have a new and improved drive on I-10 as it stretches through Buckeye, Goodyear, Avondale and Tolleson.
Construction was completed in a series of projects that were all part of the Maricopa Association of Governments' Regional Transportation Plan. ADOT worked with MAG and local communities in finalizing funding for the work, part of which included American Recovery and Reinvestment Act (ARRA) of 2009 funds or federal stimulus funds.
Work to improve this 13-mile section of freeway began in February 2008 and just finished up earlier this month. The goal was to enhance safety and commute times while also making economic development accessible and appealing along the corridor.
Take a look at what was involved with the three I-10 widening projects …
I-10 widening between Loop 101 and Sarival Avenue: $81 million project included the addition of two new "left or inside" lanes in both directions – including High Occupancy Vehicle lanes. Work started in February 2008 and was completed in December 2009.
I-10 additional widening between Dysert Road and Sarival Avenue: $31 million project included adding new "right or outside" lanes plus widening bridges in this area. Work started in November 2009.
I-10 widening between Sarival Avenue and Verrado Way: $22 million stimulus-funded project included adding new third lanes in each direction. Work began in September 2009 and traffic is now using the new lanes.
Now that construction is done, I-10 will have increased freeway capacity, better traffic flow and improved access!