Yesterday and Today: Navajo Bridge
Surrounded by spectacular scenery, the Navajo Bridge is a structure we think is actually quite stunning itself.
Don't you agree?
Located on US 89A in northern Arizona's Marble Canyon, the bridge spans the Colorado River and has an interesting history…
As you can see in the photograph above (top left), construction of the bridge was underway in 1928; however, plans for the bridge were in the works even before that.
According to the Arizona Historic Bridge Inventory, the Arizona Highway Department started planning for a bridge over the Colorado River near Lees Ferry in 1923 and by the next year, preliminary surveys had been completed. Construction began in April 1928 after the Arizona Highway Department contracted with the Kansas City Structural Steel Company to fabricate and construct the bridge.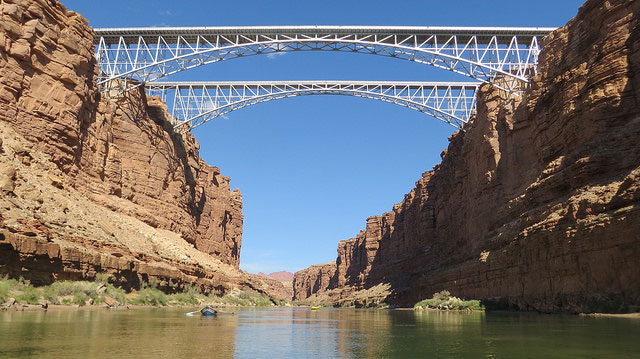 Wondering what it cost to build a structure of this size 87 years ago? The state of Arizona paid $290,000, and $100,000 was provided by the Navajo Tribal Fund – a bargain compared to today's costs!
The bridge's completion in 1929 was quite a significant event for Arizona, something that's noted in the Historic Bridge Inventory:
"After the highway linking it with Flagstaff was completed two years later, (the Navajo Bridge) played a pivotal role in the development of a vast region that covered two states. As the only crossing of the Colorado River for some 600 miles, the bridge has had a profound impact on the commerce and transportation of a rugged and remote part of Arizona. Its construction opened the state from the north, providing a valuable tourist route to Grand Canyon National Park and the rest of the state."
The Navajo Bridge still stands today, but you cannot drive across it. In use until the recent construction of an adjacent span that now carries highway traffic (the new bridge is in the background of the top right photo), the original Navajo Bridge now functions a pedestrian bridge.
---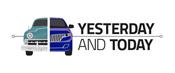 We love featuring vintage transportation-related photographs on this blog, but we also like to focus on how things have improved and changed over the years. That's why we thought it'd be fun to compare the old to the new in a series we're calling, "Yesterday and Today."