Add this to your snow-play safety checklist: Don't park along highways
Heavy weekend traffic expected again along US 180 near Flagstaff
January 21, 2016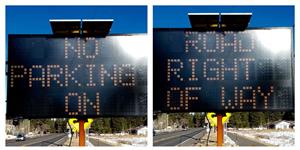 PHOENIX – Warm clothing and blankets? Check.
Plenty of gas in the tank, fully charged cellphone, drinking water? Check, check, check.
Please add this to your safety checklist when heading to play in the snow: Don't park along highways. Use only designated parking areas.
Highway shoulders are for emergencies, and parking on them to play in the snow is hazardous in several ways:
Other drivers may be distracted by your vehicle.
Other drivers may pull over as well to play in the snow, compounding the problem.
Your vehicle may interfere with first responders who need to use the shoulder.
Plows can throw snow and ice far off highways.
It's much safer to re-enter highways from on-ramps and other designated entrances.
Expect heavy snow-play traffic again this weekend along US 180, which can lead to long backups heading toward Flagstaff at day's end.
Those making the trip should allow for extra travel time and prepare as they would for any extended period in snowy, icy or cold areas. For more tips on preparing for travel in snow country, please visit azdot.gov/knowsnow.
To avoid congestion heading home through Flagstaff, consider taking a marked alternate route offering a more direct path to Interstate 17, via the Interstate 40 Butler Avenue interchange.
Check highway conditions before you leave. The ADOT Traveler Information Center, available at az511.gov or by calling 511, is an excellent source of information, as is ADOT's Twitter account: @ArizonaDOT.