ADOT engineers improve way to prepare for highway projects
Agency succeeds in saving time to start technical design work
February 21, 2018
PHOENIX – With approximately 150 state highway construction projects scheduled to start in any given year, Arizona Department of Transportation engineers constantly look for ways to save time and money in designing and building these much-needed improvements.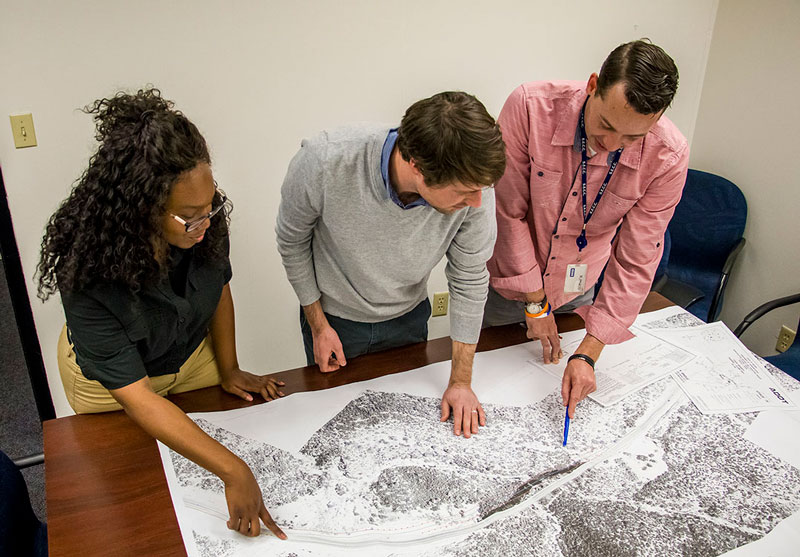 Over the past two years, this focus has had ADOT engineers teaming with engineering colleagues from the private sector to speed how projects are designed by improving the process that gets the work started. This includes issuing task orders, or contracts, to private engineering firms that will be preparing the technical construction plans for upcoming projects.
As a result of this collaboration, ADOT has been able to reduce the time needed to issue a task order from approximately 150 days to an average of 50 or fewer days.
"Improving project delivery is a major priority for us," said Steve Boschen, who leads ADOT's Infrastructure Delivery and Operations division. "Our review and simplification of the process will help keep future highway construction projects on schedule."
ADOT manages a highway construction program that often has more than $900 million in work underway each year, so improvements in this area help improve the quality of life in Arizona through more timely improvements to the transportation system.
This is National Engineers Week, organized by the National Society of Professional Engineers to promote understanding of and interest in engineering and technology careers. At ADOT, engineering is behind every activity that maintains, improves and expands the state's transportation system, from rehabilitating bridges to paving highways and creating the Loop 202 South Mountain Freeway. Common to all those engineering efforts is a commitment to continuous improvement.
To improve the task-order process, ADOT used the Arizona Management System championed by Governor Doug Ducey to assemble a team that included consultant engineers to identify both waste and opportunities.
Consultant engineers have praised the time-saving effort.
"Several tools were created to speed the process, including checklists, simplified forms and ways to monitor the task-order process," said Randy Simpson, a professional engineer who is vice president with the firm AECOM. "As a member of the Arizona engineering consultant community, I appreciate the opportunity this effort provided to improve the way our industry delivers transportation infrastructure improvements."
A faster start for project design is especially important when construction schedules are moved up. That's been the case in Maricopa County, where a rebalancing of transportation tax revenue has allowed regional planners to advance the number of Phoenix-area freeway projects that will be under construction by 2020.
Accelerated projects include adding lanes along Loop 101 between I-17 and Princess Drive as well as along Interstate 10 between Verrado Way and State Route 85. Both widening projects are now scheduled to start by 2019, rather than well after 2020.
"We count on our engineers and the entire team at ADOT to get the most out of the investment taxpayers are making in projects that make travel more efficient and, most importantly, safer," ADOT Director John Halikowski said. "Accelerating projects is a priority as our engineers team with partners in law enforcement and highway safety to make travel as safe as possible."