Araby Road improvements in Yuma to resume week of May 14
New Interstate 8 interchange to be completed by November
May 7, 2018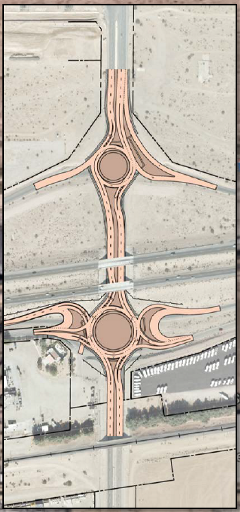 YUMA – Work resumes the week of May 14 on a project converting the Interstate 8 interchange at Araby Road to a pair of modern roundabouts that will move traffic more efficiently and safely through one of the region's busiest intersections.
In this second half of this project, the Arizona Department of Transportation is building a roundabout that will connect the eastbound I-8 ramps at Araby. Gila Ridge Road also will connect to the roundabout, which is designed to accommodate large trucks, recreational vehicles and agricultural equipment. The project is scheduled for completion in November.
Crews completed a similar roundabout north of I-8 in 2017, before work went on hiatus for the winter.
Yuma-area drivers should plan ahead to avoid restrictions that will be in place for the next one to three months:
The eastbound I-8 exit ramp at Araby will close for three months beginning on Wednesday, May 16. Drivers may want to exit at Avenue 3E to the west or Fortuna Road to the east.
Also on May 16, Gila Ridge Road will close for 30 days between Araby Road and the Tanimura and Angle Produce building, 6435 Gila Ridge Road.
On Thursday, May 17, Araby will be reduced to one lane in each direction between 26th and 30th streets near I-8. During the restriction, which will remain in place for three months, there will be no left turn from northbound Araby to Gila Ridge. The maximum vehicle width during the restriction will be 11 feet.
Drivers should expect delays and consider alternate routes.
The Araby Road interchange is among the busiest along I-8 in the Yuma area. As SR 195, it is a vital corridor for international commerce through the international port of entry in San Luis. To the north, it connects with US 95 leading to Interstate 10.