Arizona Highways magazine celebrates 90 years with anniversary issue
Special issue created from magazine's history over past nine decades
March 9, 2015
PHOENIX – How do you capture the past 90 years in words and pictures? It's not an easy task to encapsulate the best of the best in a single issue of a magazine.
April marks 90 years of publication for Arizona Highways magazine. As a tribute, Arizona Highways has taken a walk through history. The editorial staff dug through roughly 1,100 issues to assemble a collection of words, photos, ads, maps, art and other memorabilia that proved to be some of the most popular items ever published by the magazine. The content is divided up over nine decades, each decade highlighting the favorites among readers.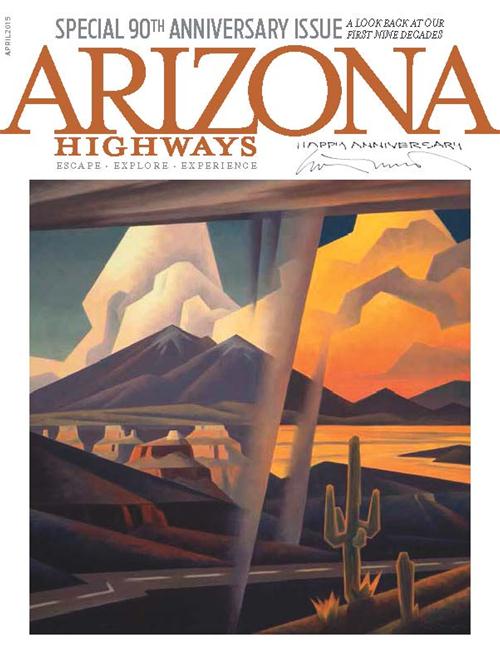 "We've come a long way since 1925, when we ran ads for road graders and published stories about bridge construction," said Arizona Highways Editor Robert Stieve. "Things got a lot more interesting in 1938, when Editor Raymond Carlson and Art Director George Avey came along. They're the founding fathers of a magazine that would go on to make publishing history in 1946 with the world's first all-color publication, get banned in the Soviet Union in 1965 because it was viewed as propaganda, and share the beauty of Arizona with readers in all 50 states and more than 120 countries around the world."
Arizona Highways' 90th anniversary issue features so many highlights from years past, that the number of pages was nearly doubled for this issue. Everything from famous photographs by Ansel Adams, colorful paintings by Ted DeGrazia, and breathtaking scenery from every corner of Arizona is included in this special collector's issue.
There are some treats in store with this 90th anniversary issue for both longtime subscribers and new readers. The April issue features custom front and back covers. The original work of art on the front cover was created by world-renowned painter and Arizona native Ed Mell. It combines some of the many elements of the Arizona landscape, along with a highway featured prominently. Signed, limited-edition prints of this fine art will be available for sale at $49.99. Proceeds will benefit Free Arts for Abused Children of Arizona.
The iconic map on the back cover was originally created in 1940 by George Avey. This will also be available as a limited-edition print for $19.99. Both prints will be available for purchase at shoparizonahighways.com or by calling 1.800.543.5432.
Finally, for one day only, a digital 12-month subscription to Arizona Highways will be available on April 1 at the cost of just one dollar, the same price for a subscription to the magazine in 1925, the year it launched. The sale will begin at 8 a.m. on April 1 and last until midnight at arizonahighways.com. The special price for the digital subscription is limited to the first 10,000 customers on April 1.
A one-year subscription to the print version of Arizona Highways magazine (12 issues) is $24 in the United States. For more information on Arizona Highways magazine, or to sign up for a subscription, visit arizonahighways.com.