Arizona Highways magazine celebrates 95 years with special issue
April edition looks back at evolution of landscape photography
March 27, 2020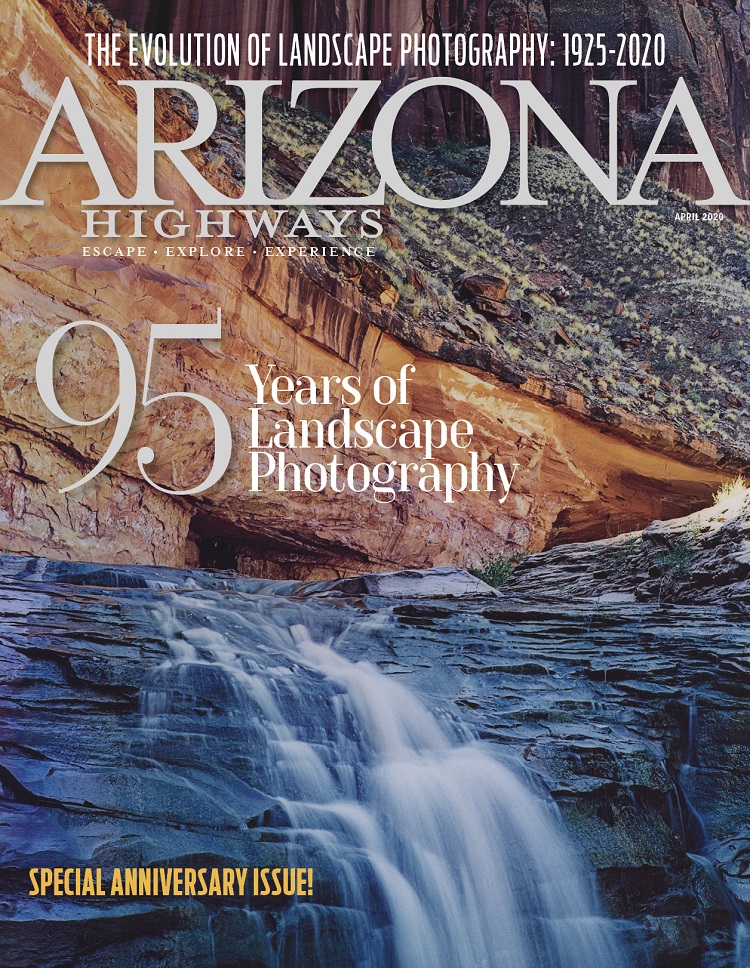 PHOENIX – The photographers who captured the earliest images for Arizona Highways magazine were tasked only with documenting road conditions, yet their artistic flair meant the scenery overpowered many views of humble, unpaved byways.
A worldwide audience eventually marveled at the publication's photos after it evolved from an engineering newsletter into a magazine featuring Arizona icons like the Grand Canyon, Monument Valley and saguaro-studded landscapes.
This April, the magazine celebrates its 95th anniversary with a special issue that looks back at this evolution of landscape photography. For this edition, photo editor Jeff Kida reviewed the magazine's more than 1,100 issues and tens of thousands of images.
Kida says advances in photographic equipment explain only part of the evolution. As he assembled the portfolio, Kida found the most significant changes were sparked by the creativity of photographers who included Ansel Adams and Barry Goldwater.
"It became like piecing together a puzzle," Kida says in the issue. "I tried to make sense out of a 95-year timeline, and to distinguish the technological and artistic changes we saw along the way."
The anniversary edition features an essay by longtime editor Raymond Carlson that was originally published in December 1942. The essay is accompanied by photographs from the same issue.
Also, Editor Robert Stieve reveals stories behind some of the magazine's best-known cover photos. Stieve tells how Goldwater, outside of his better-known political career, photographed two Navajo girls wrapped in blankets on a wintry day as they watched over their sheep. That image appeared in the landmark December 1946 issue, when Arizona Highways published the first all-color issue of a nationally circulated consumer magazine.
The magazine's images and stories were so powerful, the anniversary edition notes, that the Soviet Union once banned the publication in the belief it propagandized American life.
Today, Arizona Highways has readers in more than 120 countries and all 50 states.
A one-year subscription to the print version of Arizona Highways magazine (12 issues) is $24 in the United States. For more information on Arizona Highways magazine or to sign up for a subscription, please visit ArizonaHighways.com.