Arizona Highways magazine recognized for excellence
ADOT publication gets 17 awards from International Regional Magazine Association
November 1, 2019
PHOENIX – Arizona Highways magazine, published by the Arizona Department of Transportation, won 17 awards at the International Regional Magazine Association's recent annual conference in Charlotte, North Carolina.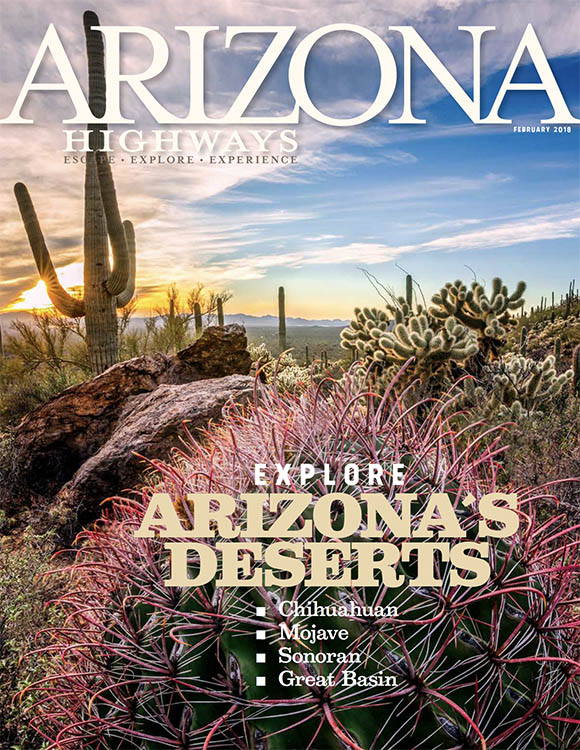 Among those, the magazine won two first-place Gold awards for a feature story on agaves by longtime contributor Annette McGivney and for a feature story on a baseball tournament by Managing Editor Noah Austin.
"It is a true honor to be recognized for the outstanding work our team does each and every day," said Kelly Mero, publisher of Arizona Highways. "To be recognized among peer publications speaks volumes to the high standards of breathtaking photography and editorial excellence we continue to strive and deliver on."
This is the fifth straight year that the association has honored Arizona Highways with at least 16 awards.
Gold award winners:
Historic Feature: Noah Austin, A Totally Different Ballgame
Nature & Environment Feature: Annette McGivney, In Search of Ancient Agaves
Silver award winners:
Travel Feature: Matt Jaffe, The Ultimate Arizona Road Trip
General Feature: Tyler Williams, A Walk in the Park
Profile: Matt Jaffe, Barry Goldwater
Head and Deck: Robert Stieve, He Can Take Care of Himself Just Fine
Photo Series: Jacques Barbey, A Totally Different Ballgame
Portrait Photo: Bev Pettit, Keeping It Real
Art Direction, Single Story: Barbara Glynn Denney, Arizona Ghost Towns
Bronze award winners:
Column: Robert Stieve, Editor's Letter
Magazine Writer of the Year: Kelly Vaughn
Single Photo: John Blaustein, A River So Long
Portrait Series: David Zickl, First Chair
Photographer of the Year: Joel Hazelton
Cover: February 2018
Award of Merit
Art & Culture Feature: Annette McGivney, Indigenous Arizona
Special Focus: Remembering Photographer Jerry D. Jacka
Founded in 1925, Arizona Highways is dedicated to promoting travel to and through the state of Arizona. In addition to the world-renowned magazine known for spectacular landscape photography, Arizona Highways publishes travel guide books, calendars and other products to promote travel in Arizona. The magazine has subscribers in all 50 states and more than 100 countries.
Learn more at ArizonaHighways.com.