Avondale collector has December 1930 edition sought by Arizona Highways
ADOT-produced magazine put out call for copy to complete digital library
November 27, 2017
PHOENIX – The search for an 87-year-old edition of Arizona Highways magazine has a happy ending.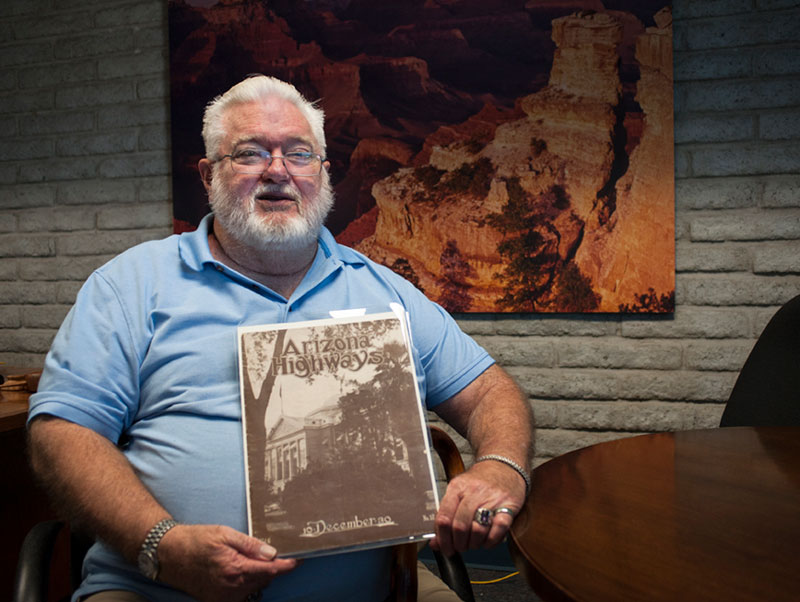 Dennis Chandler of Avondale, who collects all things Arizona, responded when editors of the magazine, produced by the Arizona Department of Transportation, said they were looking for a December 1930 edition to complete its digital library.
"You name it – if it's Arizona and collectible, I collect it," Chandler said.
After one of his neighbors heard about the search through a Phoenix-area radio station's news report, Chandler reached out. Arizona Highways editors are scanning the edition page by page and will return it.
Chandler, an Arizona resident since 1946, has a collection of more than 3,000 Arizona history books, including bound volumes of Arizona Highways dating to 1937.
"I'm a strong proponent of kids learning Arizona history," he said. "Anything I can do to perpetuate that, I'm all for."
Arizona Highways began as a simple newsletter in 1921 and became a magazine in April 1925. In the late 1930s, editor Raymond Carlson changed what had been an engineering-focused journal into a tourism-oriented magazine with travel stories and scenic photographs. Arizona was one of several states to develop magazines to entice drivers to explore their newly developed roads. Of these magazines, none dates as far back or features the spectacular photography that has made Arizona Highways a national treasure.
To read more about Chandler and the search for the December 1930 edition, visit the Arizona Highways blog at arizonahighways.com/blog.