First phase of Araby Road TI roundabouts is complete on time
Work will stop until spring to accommodate winter traffic
October 25, 2017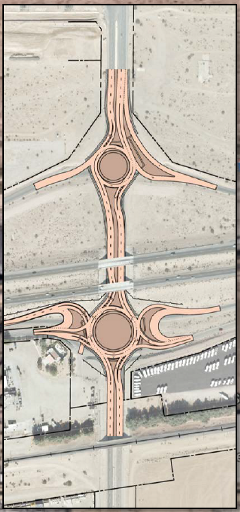 YUMA – With half the work completed on schedule, Arizona Department of Transportation crews are calling time out on the project to build a new traffic interchange at Interstate 8 and Araby Road so that agricultural traffic can move without restriction during the busy winter season.
Work on the modern roundabout north of I-8, which connects with exit and entrance ramps from westbound I-8, will end Friday, Oct. 27. Work on the roundabout on the south side of I-8 is scheduled to resume in the spring.
"We're excited to complete the first part of this important project on time," said Paul Patane, ADOT Southwest District engineer. "It was crucial that we did not impede the busy agricultural season."
Araby is also known as State Route 195 and runs south to the San Luis Port of Entry, where most trucks carrying winter produce into the Yuma area cross the border from Mexico. The roundabouts are designed to accommodate large trucks, agricultural equipment and recreational vehicles.
There is one step still to be completed on the north roundabouts. Traffic will be restricted to one lane in each direction to allow crews to add striping to the roundabout on Monday, Nov. 13, and Tuesday, Nov. 14.
Utility work connected to the south roundabout will begin in April, with construction expected to resume in early May. Completion is scheduled for fall 2018. The roundabouts south of I-8 will connect with the eastbound on- and off-ramps as well as with Gila Ridge Road.
The interchange is being transformed to improve traffic flow in what is one of the busiest intersections in Yuma, with about 22,000 vehicles per day. The new design is expected to accommodate increasing traffic flow in the area through at least 2035.
A comprehensive study determined that modern roundabouts are the best choice to meet traffic demands. Modern roundabouts have been shown to be safer and more efficient than traditional signalized intersections.