I-10 bridge west of Willcox set to close April 5
Closure to replace bridge deck scheduled through fall
April 1, 2021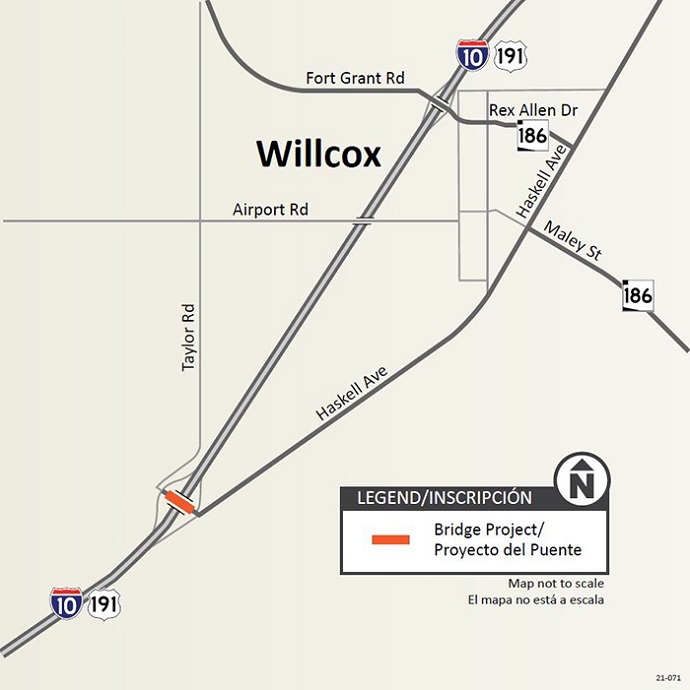 PHOENIX – A bridge over Interstate 10 west of Willcox will close Monday, April 5, as part of an Arizona Department of Transportation project to replace the bridge deck.
The bridge at Exit 336, which connects Haskell Avenue to the south of I-10 and Taylor Road to the north of the Interstate, will remain closed until fall.
Through the $2.5 million project, the eastbound I-10 exit ramp to Haskell Avenue will remain open to allow vehicles to enter Willcox from the west.
While the westbound I-10 entrance and exit ramps to and from Taylor road will remain open, traffic will not be able to cross over I-10. Also, the ramp from Taylor Road and Haskell Avenue to eastbound I-10 will remain closed during construction.
Motorists should expect periodic weekend detours on I-10 from 8 p.m. Fridays to 6 a.m. Mondays. During those times, traffic will be diverted onto the exit ramps and back to I-10 using the entrance ramps.
The project also includes barrier replacement, new pavement adjacent to the bridge, guardrail upgrades and new signs.
For more information about the project, please visit the project page.