MVD: Buying a vehicle? Check its history
Beware of potential fraud and Export Only stamp
February 15, 2018
PHOENIX – The Arizona Department of Transportation Motor Vehicle Division cautions consumers to beware of potential fraud when buying a car.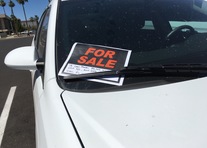 "The best defense is to do your research," says Ralene Whitmer, MVD Title and Registration Specialist. "This is especially true for people buying vehicles from individuals. The possibility for fraud exists and it's wise for every consumer to thoroughly look into a vehicle's history. Reputable dealers will always be willing to provide this information, and that same standard should be expected of anyone who sells a vehicle in a private sale."
A vehicle's title will include information about its origin and whether it's been stolen, water-damaged, wrecked, destroyed, or suffered other damage. In addition, some titles will be stamped "Export Only", which means they were purchased by a dealer from out-of-state or a foreign country and they cannot be legally sold in Arizona.
"The advice from the Motor Vehicle Division is to avoid buying cars in Arizona that are stamped 'Export Only'", Whitmer added. "Dealers or individuals who attempt to sell vehicles with an Export Only title stamp within Arizona are breaking the law. Those vehicles can only be sold where the dealer is actually licensed. We have seen problems with this in Arizona communities that border Mexico and other U.S. states."
Customers can get more information about title, registration and tips on buying and selling vehicles at www.azdot.gov/mvd at the Vehicle Services section.