MVD expands online appointments to include road tests
Driver license applicants can now fit road tests into their schedules
August 23, 2016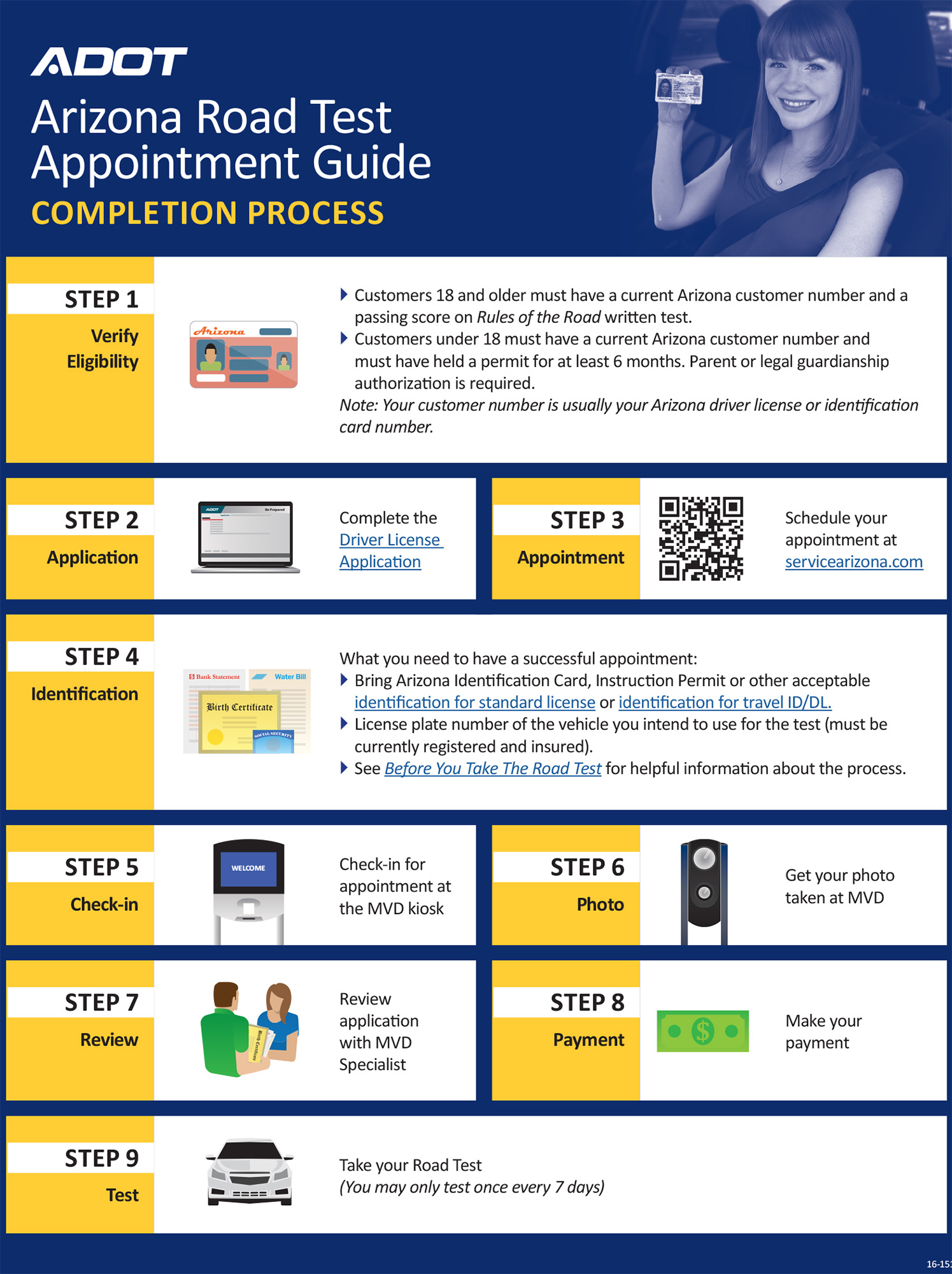 PHOENIX – Taking the road test for a driver license has long involved showing up at an Arizona Department of Transportation Motor Vehicle Division office early in hopes of getting a time slot to take the test that day. And often plenty of waiting.
That's changing as of this week. Customers are now able to schedule road tests up to 30 days in advance through ServiceArizona.com for 11 office locations in the Phoenix metro area and northern Arizona. MVD will be bringing remaining offices online over the next two weeks.
The change, part of MVD's efforts to continuously improve its customer focus, adds to online appointments launched in April for those converting a driver license or ID card to a Voluntary Travel ID.
"This new feature will provide a lot of value to our customers by allowing them to fit the test into their schedule instead of spending half a day at an office waiting to take it," ADOT Motor Vehicle Division Director Eric Jorgensen said. "This is another step forward in achieving MVD's vision of getting customers out of line and safely on the road."
To schedule an appointment, visit azdot.gov/roadtestinfo, which has step-by-step instructions for arranging road tests. Customers can fill out and submit a driver license application online, get a list of documents needed to obtain a standard driver license or Voluntary Travel ID and schedule their road tests on ServiceArizona.com.
Once at the MVD office, those with appointments can check in at a kiosk rather than waiting in line at the information desk.
Applicants must meet all requirements before taking the road test, including passing the written test. Appointments are only for road tests, not the written portion of the exam.
As part of ADOT's agency-wide commitment to continuous improvement, MVD is experimenting with other ways to reduce wait times, an effort that has led to process improvements that include printing temporary credentials at customer service windows instead of sending customers to a separate line. Customers who need to retake the driving test now go directly to the testing area instead of first waiting in line to re-verify their applications with a representative.
An experiment at MVD's West Phoenix location has found that having customers line up rather than relying on the number-calling system dramatically reduces wait times, and that innovation is rolling out to other large MVD offices. MVD has also seen positive results in experimenting this summer with expanded office hours in the Tucson area.
"All of the process improvements, like road test appointments, help make MVD more efficient and customer-oriented," Jorgensen said. "All aspects of MVD are on the table as we continue to experiment and innovate to improve the overall customer experience."
For more information, please visit azdot.gov/mvd.