New Houghton Road bridge opens in major project milestone
I-10 interchange project on track for completion in late 2021
July 14, 2021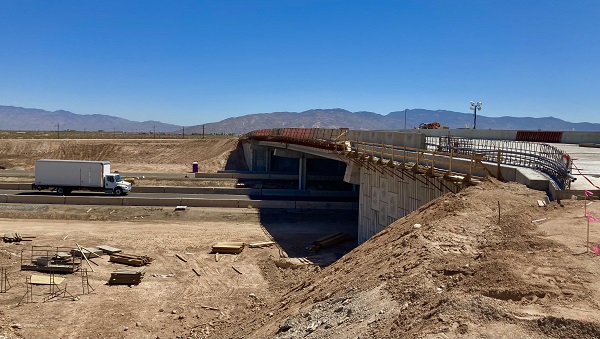 PHOENIX – Motorists who cross Interstate 10 on Houghton Road are now traveling on a newly completed bridge as the Arizona Department of Transportation reaches a significant milestone in reconstructing an interchange that serves a rapidly growing area of Tucson.
ADOT crews shifted traffic from the existing two-lane bridge to the new six-lane structure early Wednesday morning. The $24.4 million project to build southern Arizona's first diverging diamond interchange is now roughly 75 percent complete after beginning in late August 2020.
In addition to constructing the bridge, ADOT has also made significant progress rebuilding Houghton Road adjacent to the structure and reconstructing most segments of the entrance and exit ramps.
While a temporary Houghton Road traffic configuration is in place for the next several weeks with only one lane of travel in each direction, the traffic shift allows other important work to take place so the interchange can fully open by late 2021.
In the next several weeks, crews will complete the ramps on the east side of the interchange. Also, the old structure over I-10 will be demolished. The work will require overnight restrictions on I-10, tentatively scheduled for July 23-24.
All six lanes of the new bridge will open later this year, when the interchange will be converted to a diverging diamond configuration. In this type of interchange, traffic shifts to the opposite side of the road while crossing over I-10.
The diverging diamond design was chosen because it promotes safety and can handle higher traffic volumes in the growing southeast Tucson area, where traffic is expected to increase by as much as 50 percent by 2045.
For more information about the project and diverging diamond interchanges, please visit azdot.gov/i10Houghton.