Old State Route 89 bridge over Hell Canyon to be removed
Drivers should expect delays as out-of-date bridge comes down Sept. 16
September 13, 2016
PHOENIX – The 62-year-old State Route 89 bridge at Hell Canyon will be removed on Sept. 16.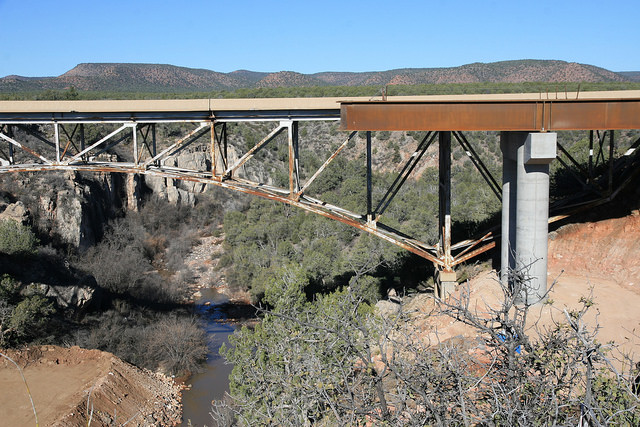 The Arizona Department of Transportation replaced the 1954 bridge, which no longer met state and federal design standards for larger and heavier vehicles, earlier this year. The new bridge is better able to accommodate commercial traffic, particularly oversized loads, between Prescott and Interstate 40.
Crews began dismantling the old bridge in August by removing the bridge deck. In the next step, contractors will use an implosion technique that causes the bridge girders to melt and allows the structure to collapse onto itself.
Motorists traveling on SR 89 between Prescott and Interstate 40 should expect delays of up to 30 minutes on Sept. 16 between 9 a.m. and 11 a.m. Drivers may consider changing the time of their travel or consider alternate routes, including I-17 and I-40 through Flagstaff or US 93.
The new Hell Canyon Bridge, located about 18 miles north of Chino Valley between Prescott and Ash Fork, carries about 3,400 vehicles each day.
The new $14.4 million bridge is 665 feet long and 47 feet wide – 65 feet longer and 17 feet wider than the structure it replaces – and has added strength from a fourth span. It has 12-foot lanes and 10-foot shoulders in each direction, allowing it to better accommodate oversized loads.
For more information, visit azdot.gov.