Overnight restrictions, delays begin Dec. 14 at I-10/Houghton Road
Traffic routed onto ramps for two weeks during bridge girder placement
December 9, 2020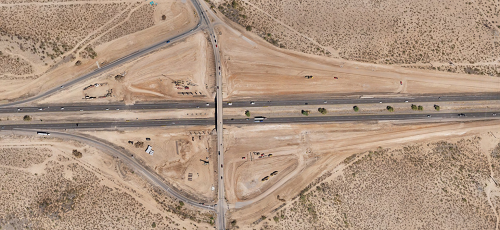 PHOENIX – Motorists who use the Interstate 10/Houghton Road interchange in Tucson should expect overnight delays for about two weeks starting Monday, Dec. 14, as crews place girders for the new Houghton Road bridge.
During the work, I-10 traffic will be routed up and over the entrance and exit ramps while crews place the girders above one direction of the highway at a time. The 26 concrete girders, which are 120 feet long and weigh 55 tons each, are lifted off truck beds and hoisted into place with a crane.
Motorists should plan for delays during the work, which is scheduled between 9:30 p.m. and 5:30 a.m. each night. The work will require rerouting one direction of Interstate 10 at a time. Houghton Road will remain open, with delays of about 15 minutes near the ramps.
During the work, drivers should consider alternate routes that include Rita Road and Colossal Cave/Wentworth Road.
The work is part of a $24.4 million project to replace the two-lane Houghton Road bridge with a new diverging diamond interchange that features a six-lane bridge across I-10. The project began in August and is expected to be completed in late 2021.
Motorists should proceed through the work zone with caution, slow down and watch for construction personnel and equipment. Law enforcement will direct traffic through the intersection during work.
For more information, please visit azdot.gov/i10Houghton.