Prepare for coming winter storms, be ready to wait out snowfall
Heavy snow, strong winds will create hazardous driving conditions Thursday through Saturday
January 18, 2017
PHOENIX – With two winter storms forecast to blanket Arizona's high country with as much as 24 inches of snow between Thursday and Saturday, motorists should be prepared for hazardous driving conditions, delays and possible highway closures – and consider delaying travel during the worst weather.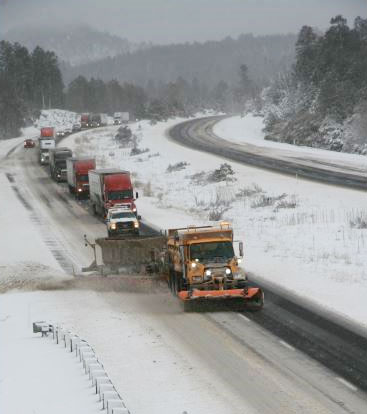 The National Weather Service forecast calls for the first storm to reach the state late Thursday, with a colder, more powerful storm moving in Friday evening through Saturday morning. Snow levels will drop to about 5,000 feet Thursday and as low as 4,000 feet Saturday morning. The heaviest snowfall is expected over the Mogollon Rim and areas above 7,000 feet in Yavapai County. That includes areas from Flagstaff to Forest Lakes and into the White Mountains.
Gusting winds are expected from both storms, meaning windblown snow on top of the heavy accumulation could create dangerous driving conditions. Slide-offs and crashes in severe weather cause traffic backups and lead to highway closures.
With more than an inch of rain forecast for some desert locations, water could accumulate in low spots or washes.
The Arizona Department of Transportation's nearly 200 snowplows and 400 certified snowplow drivers are ready to deal with snow and ice, and ADOT's website offers tips for driving in the rain, in wind that reduces visibility and around snow and ice.
Here are some of the driving tips:
Consider waiting out the storm if conditions warrant: Highways can close suddenly in severe weather, and stranded vehicles make it more difficult for snowplows to do their work. Delaying travel may be the safest decision.
Slow down: Adjust speed to conditions.
Create space: Leave extra room between your vehicle and the vehicle in front of you. Avoid sudden braking.
Give snowplows room: Slow down and stay at least four vehicle lengths behind a plow. Wait for a plow to pull over before passing. The safest place to be when there's snow and ice on a road is behind a snowplow.
Leave prepared: Bring extra clothing and gloves, make sure the gas tank is half to three-quarters full at all times, keep cellphones charged, and pack extra drinking water, snacks and all necessary medications.
Pack an emergency kit: It should include blankets, a flashlight, an ice scraper, a small shovel, a container of sand or cat litter for traction and warning lights or reflectors.
Beware of black ice: Melting snow can turn into ice, especially at night. Ice tends to form on bridges first and can be difficult to see.
Many of these tips apply to driving on wet roads as well, including waiting out threatening weather. Some other tips:
Inspect windshield wipers and replace them if necessary.
Turn on headlights while driving.
Avoid areas where water is pooling in travel lanes.
Updates on freeway conditions and restrictions are available on ADOT's Traveler Information site at az511.gov or by calling 511. ADOT also provides state highway information via its Twitter feed (@ArizonaDOT).